There are so many fantastic graphic novels and comics that it can be hard to know where to start. This week, Kitty and I are sharing some of our favorites. Let us know which ones you've read or now want to read!

Kitty's Recommendations:
The Prince and the Dressmaker - Jen Wang
The Prince and the Dressmaker is a one-volume graphic novel about a seamstress who is hired by the Prince to secretly make gowns for him. While the prince is meant to be searching for a bride, he is secretly dressing in these gowns and taking the fashion world by storm under the name Lady Crystallia. It is a charming story about self-identity that is incredibly unique. I highly recommend it to anyone who wants a new twists on traditional prince and princess stories.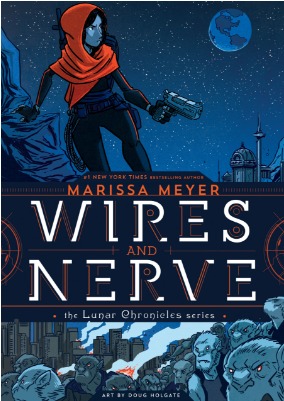 Wires and Nerves - Marissa Meyer and Douglas Holgate
Wires and Nerves is the graphic novel companion to The Lunar Chronicles by Marissa Meyer. When I read The Lunar Chronicles, I enjoyed it, but I was never quite as invested as a lot of readers were. Wires and Nerves, however, was everything for me. I loved the art style and the story equally. The graphic novel duology follows Iko, Cinder's android friend from the original series. Personally I always loved Iko and she brought such a fun and unique voice to the books! These graphic novels don't really stand alone very well, but if you have read The Lunar Chronicles, I highly recommend picking them up.
Taproot - Keezy Young
Taproot is an adorable stand-alone graphic novel that follows a gardener who is in love with his best friend who happens to also be a ghost. This story is equal parts charming romance and necromantic mystery. The art style is really unique and uses muted colors to give the entire graphic novel a very soft feeling. I really enjoyed reading this one and I highly recommend it for anyone looking for a short, sweet read.
Nimona - Noelle Stevenson
I know everyone has probably heard about Nimona already, but that won't stop me from recommending it. This graphic novel is full or personality and fun, but still has it's emotional moments. The story follows Nimona, a shapeshifting girl who decides she's going to become the sidekick to a villian. It's a genre bending story that is part medieval fantasy, part superhero tale, and part science fiction. I recommend it to everyone who loves found family dynamics and is looking for a laugh.
Heartstopper - Alice Oseman
Okay, so Heartstopper isn't exactly a graphic novel, but it will be soon! Heartstopper is a webcomic written and illustrated by Alice Oseman, author of Radio Silence and I was Born for This. It's a high school story featuring an adorable m/m romance between an openly gay boy and a closeted rugby player. It also features cameos of characters from Alice Oseman's novels, so if you love her books, you definitely want to check Heartstopper out! There is currently a kickstarter running to publish a print copy of volume one which you can check out
HERE
.

Dana's Recommendations:
Persepolis by Marjane Satrapi
This is an autobiographical story told through graphic form about the author's childhood in Tehran, the capital of Iran, during the Iranian revolution. I was required to read this as a freshman in college and found it be very eye-opening to what life was like in Iran at the time. Marjane Satrapi shows how relatable her life was while also how difficult it was and the amount of fear her parents have, yet her mother was constantly protesting. It's a very powerful story that needs to be read.
Archie: The New Riverdale by Mark Waid, Fiona Staples (Illustrator), Annie Wu (Illustrator), Veronica Fish (Illustrator)
If you love Riverdale and want to get more into the Archie universe, then the new Archie series is a must read. The characters and storylines are completely different, but it's fun to see the character-types in different situations because in many ways they are still similar. This series is fun and light, unlike the show, with characters you will fall in love with. The art is bright and colorful. The story just keeps getting better and more complex as it goes on.
Paper Girls by Brian K. Vaughan, Cliff Chiang (Illustrator), Matthew Wilson (Illustrator)
Stranger Things meets the Goonies, except the gang of kids looking to save their town and the world are all newspaper delivery girls in the 1980s. This story is outrageously cool that takes unexpected risks with the world building. It's a scifi fan's dream dealing with time travel and the issues it brings. The art is awesome and the coloring is fantastic. It's a fun ride that will hook you right away!
Adult Comics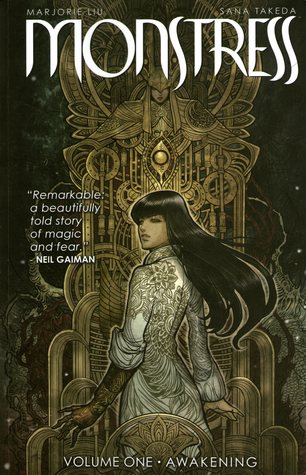 Monstress by Marjorie M. Liu (Writer), Sana Takeda (Artist), Rus Wooton (Letterer, Designer)
This story is very dark and filled with a lot of gore that may not be something younger readers may enjoy. There are some scenes that are even squeamish for me. That being said, Monstress is the most beautiful comic series that I have ever read. The art style is haunting with Japanese and Persian influences that make for this stunning world of magic.
Saga by Brian K. Vaughan (Writer), Fiona Staples (Artist)
I am caught up on all eight volumes of this incredible series and I am impatiently waiting for volume nine. Saga is a sweeping story of family, forbidden love, and the lengths we are willing to go for the ones we love with the backdrop of an interplanetary war.