What I've Recently Read: YA Contemporaries
In relaunching this blog, I want to share the books that I have read thus far this year. I've read 58 so it would be quite difficult to try and write 58 reviews. Plus, I think just posting reviews for a while would be boring, so I plan to do small round-ups based on a genre of some of the books I've read this year.
Starting with… Young Adult Contemporaries
The Romantics
Leah Konen
Amulet Books
Release Date: November 1st 2016
Goodreads
Synopsis:



Gael Brennan is about to have his heart broken when his first big relationship crumbles on the heels of his parents' painful separation. Love intervenes with the intention of setting things right—but she doesn't anticipate the intrusion of her dreaded nemesis: the Rebound. Love's plans for Gael are sidetracked by Cara, Gael's hot-sauce-wielding "dream girl." The more Love meddles, the further Gael drifts from the one girl who can help him mend his heart. Soon Love starts breaking all her own rules—and in order to set Gael's fate back on course, she has to make some tough decisions about what it means to truly care.


The Romantics was a fun and quick read (listen) narrated by Love following the main character Gael through his tribulations or failing in love too quickly for the wrong girls. At first, Gael is very immature and stubborn. He was so whiny for the entire book that I just couldn't connect the way I would have liked. He's a very difficult character to like, which was alleviated by the fact he wasn't the narrator, however, does go through a lot of positive character development. I really loved Gale's relationship with Sammy. The ending was hysterical and really captures the humor of this book.
While I enjoyed the humor and the unique narrator, this book was just okay for me! It would make for a nice beach read.
Bookish Boyfriends
Tiffany Schmidt
Amulet Paperbacks
Release Date: May 1st 2018
Goodreads
Synopsis:
The first of two books in an intended paperback original series about a girl whose classic literary crushes manifest in real life. Merrilee Campbell, 16, thinks boys are better in books, chivalry is dead, and there'd be nothing more romantic than having just one guy woo her like the heroes in classic stories. She's about to get the chance to test these daydreams when she, her best friend, Eliza, and her younger sister, Rory, transfer into Reginald R. Hero High, where all their fantasies come true—often with surprising consequences.
I loved
Bookish Boyfriends
way more than I ever expected to, but how could I not when it combines classic romance stories with insightful contemporary interpretations. It's such a sappy romantic read that fans of
Anna and the French Kiss
and
To All the Boys I've Loved Before
would thoroughly enjoy. Tiffany Schmidt plays with so many YA romance tropes in this book in ways that I never quite expected. I think the writing and characters could have been stronger because it did feel very young to me, but that also made it more of a sweeter story.
I don't think this book is for everyone especially if you hate romantic tropes like insta-love and love triangles, but I think Schmidt plays with them in such a way that if you're interested in the concept to give it a try. Merri is a romance reader and lives (metaphorically and literally) for these tropes and finds out that they're not that healthy in real life, but the getting there is a bit trying.
If you're a sucker for a cute contemporary and a lover of
Pride and Prejudice
, then you need to pick this one up!
Geekerella
Ashley Poston
Quirk Books
Release Date: April 4th 2017
Goodreads
Synopsis:
Geek girl Elle Wittimer lives and breathes Starfield, the classic science-fiction series she grew up watching with her late father. So when she sees a cosplay contest for a new Starfield movie, she has to enter. The prize? An invitation to the ExcelsiCon Cosplay Ball and a meet-and-greet with the actor slated to play Federation Prince Carmindor in the reboot. With savings from her gig at the Magic Pumpkin food truck and her dad's old costume, Elle's determined to win - unless her stepsisters get there first.
Teen actor Darien Freeman used to live for cons - before he was famous. Now they're nothing but autographs and awkward meet-and-greets. Playing Carmindor is all he has ever wanted, but Starfield fandom has written him off as just another dumb heartthrob. As ExcelsiCon draws near, Darien feels more and more like a fake - until he meets a girl who shows him otherwise. But when she disappears at midnight, will he ever be able to find her again?
Part-romance, part-love letter to nerd culture, and all totally adorbs, Geekerella is a fairy tale for anyone who believes in the magic of fandom.
"Why didn't I read this book sooner?" was all that went through my head while reading
Geekerella
. Ashley Poston perfectly combines Cinderella, geek culture, and romance in this delightful story that is both fresh and heartwarming.
When it comes to retellings like Cinderella, the story can sometimes feel predictable but I'm so glad that Ashley Poston was able to turn some of the aspects of the traditional story on its head. I love that we saw redemption for one of the step-sisters and the fairy-godmother character was probably my favorite, after Darien and Elle. At first, I wasn't sure how this would be as a dual pov with both Darien and Elle. But Darien's perspective was extremely necessary in order to provide a well-rounded character.
The one aspect I found disappointing was how they "met." Elle, has a blog about the movie Darien is starring in, and the two end up texting each other. It was way too coincidental and felt unbelievably far-fetched.
If you love
Fangirl
and
Queens of Geek
, you will adore this one!
Royals
Rachel Hawkins
G.P. Putnam's Sons Books for Young Readers
Release Date: May 1st 2018
Goodreads
Synopsis:
Meet Daisy Winters. She's an offbeat sixteen-year-old Floridian with mermaid-red hair; a part time job at a bootleg Walmart, and a perfect older sister who's nearly engaged to the Crown Prince of Scotland. Daisy has no desire to live in the spotlight, but relentless tabloid attention forces her to join Ellie at the relative seclusion of the castle across the pond.
While the dashing young Miles has been appointed to teach Daisy the ropes of being regal, the prince's roguish younger brother kicks up scandal wherever he goes, and tries his best to take Daisy along for the ride. The crown–and the intriguing Miles–might be trying to make Daisy into a lady . . . but Daisy may just rewrite the royal rulebook to suit herself.
Rachel Hawkins has a new book out and as a fan of Hex Hall, I just needed to read, even more, so it is a contemporary romance about a fictional Scottish monarchy so it was an immediate purchase. If you're craving all things royals wedding, then Royals is the book you need to binge.
I read this book in two days and enjoyed the wild ride. I loved that this was the sappy melodrama that I needed in my life. There definitely a few twists with certain characters that I was not expecting, which makes me excited about the fact that this will have a sequel/spin-off.
This had a great hate-to-love romance that happened really naturally with great chemistry. Honestly, this was just a fun read that will make you sincerely happy!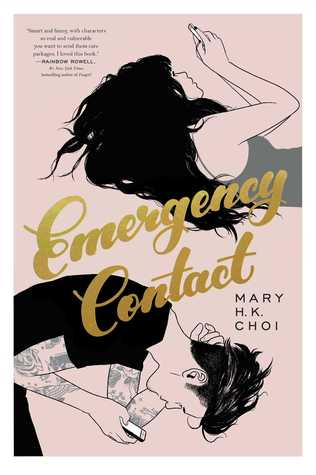 Emergency Contact
Mary H.K. Choi
Simon & Schuster Books for Young Readers
Release Date: March 27th 2018
Goodreads
Synopsis:
For Penny Lee high school was a total nonevent. Her friends were okay, her grades were fine, and while she somehow managed to land a boyfriend, he doesn't actually know anything about her. When Penny heads to college in Austin, Texas, to learn how to become a writer, it's seventy-nine miles and a zillion light years away from everything she can't wait to leave behind.
Sam's stuck. Literally, figuratively, emotionally, financially. He works at a café and sleeps there too, on a mattress on the floor of an empty storage room upstairs. He knows that this is the god-awful chapter of his life that will serve as inspiration for when he's a famous movie director but right this second the seventeen bucks in his checking account and his dying laptop are really testing him.
When Sam and Penny cross paths it's less meet-cute and more a collision of unbearable awkwardness. Still, they swap numbers and stay in touch—via text—and soon become digitally inseparable, sharing their deepest anxieties and secret dreams without the humiliating weirdness of having to see each other.
Mary H.K. Choi's debut,
Emergency Contact
, was one of my favorite read of the year. There was so much about it that captured my attention. The prose was sharp, witty, and engaging. The characters were dynamic and beautifully developed. The text conversations felt realistic and genuine. The slow-burn romance was built in such a wonderful way.
I loved that this was set during the first year of college. I think there is this area of transition that gets lost in fiction, especially when it concerns diverse characters who may be first-generation college students.
There was only one aspect of this book that I wasn't thrilled with was Penny's relationship with her mother and in-comparison to Sam's own hardships. I think it's difficult to say one person's struggles are worse than someone else's because everything impacts people differently, but Penny took way too long to be less self-absorbed and accept her mother. When Sam was dealing with so much it made Penny feel whiny in comparison.
Rainbow Rowell fans will connect well with this story, characters, and romance.
Have you read any of these books? What did you think of them? I would love to know!