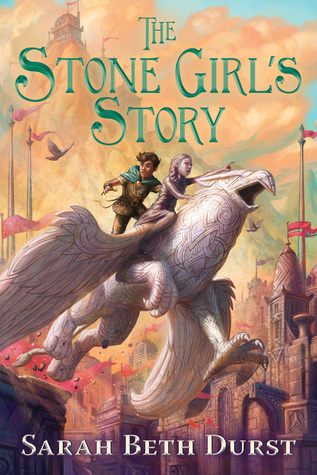 Title: The Stone Girl's Story
Author: Sarah Beth Durst
Genre: MG Fantasy
Pages: 336
Format: ARC
Received: For Review From The Publisher
Published: April 3rd, 2018 from Clarion Books
Stars: 4/5

Book Description:
Exploring the power of stories and storytelling, Sarah Beth Durst presents the mesmerizing adventure of a girl made of living stone who braves unforeseen dangers and magical consequences on a crucial quest to save her family.




Mayka and her stone family were brought to life by the stories etched into their bodies. Now time is eroding these vital marks, and Mayka must find a stonemason to recarve them. But the search is more complex than she had imagined, and Mayka uncovers a scheme endangering all stone creatures. Only someone who casts stories into stone can help—but whom can Mayka trust? Where is the stonemason who will save them?




Action and insight combine in this magical coming-of-age novel as the young heroine realizes the savior she's been searching for is herself.
(This review was originally posted on Kidsreads.com)
THE STONE GIRL'S STORY is yet another fantastic middle-grade fantasy from acclaimed author Sarah Beth Durst. While unrelated to her previous two middle-grade fantasies, JOURNEY ACROSS THE HIDDEN ISLANDS and THE GIRL WHO COULD NOT DREAM, Durst continues to tell a story of a strong young girl who determinedly saves herself from the forces of evil surrounding her.
THE STONE'S GIRL STORY is a breath of fresh air in terms of its fantasy world. Durst has created a mythology and world that feels like The Wizard of Oz meets Narnia with talking animals made out of stone. It's quirky and wholly unique. I've never read a story that featured stone characters, and in many ways, it felt like a robot story but set in a fantasy world. The aspect of carving and reading a character's story was beautiful and made for some thought-provoking moments.
There were certain themes that were especially heartwarming in this adventure story were the ideas of writing your own story and self-determination. Free will is explored thoroughly in the story in a way that young readers will understand and champion. It is so easy to root for these characters. Additionally, Durst shows the importance of found family. It's not just blood ties that determine who is family, but it is the people who stand up for you and stand by you through your struggles.
In the beginning of the novel, I had a difficult time connecting with Mayka. She's lived her life in a bubble and is both naive and idealistic. She goes off on this journey to save her stone family without much information. But as the story progressed these same reasons made me love her more. She's so pure that you can't help, but feel for her. Her faith in people never diminishes. While I would prefer a more dynamic and flawed character, I think Mayka is the perfect protagonist for this story.
The side characters of this story really stole the show for me. The stone birds were a great addition of humor. Mayka tended to be more on the dry side and the other characters were able to lighten up the darker moments. Each character of Mayka's stone family had a well developed personality that made this story so much more believable.
Middle grade fantasy novels tend to be series rather than standalone, but all three of Durst's middle grade novels thus far have been standalone. THE STONE GIRL'S STORY wraps up in such a beautiful way that readers will feel fully satisfied and content with where they leave these characters.
Fantasy fans and readers of Sarah Beth Durst's previous novels will adore this story that will no doubt touch your heart.