Recently Read: Graphic Novels
In relaunching this blog, I want to share the books that I have read thus far this year. I've read 64 so it would be quite difficult to try and write 64 reviews. Plus, I think just posting reviews for a while would be boring, so I plan to do small round-ups based on a genre of some of the books I've read this year. I started with a recap of some of the YA Contemporary Romances that I've read.
My Recent Graphic Novel Reads
Image Comics
Published: July 16th, 2014
Synopsis:
From JONATHAN LUNA (GIRLS, THE SWORD, ULTRA, Spider-Woman: Origin) and SARAH VAUG




HN (Sparkshooter) comes ALEX + ADA, a sci-fi drama set in the near future. The last thing in the world Alex wanted was an X5,

the latest in realistic androids. But after Ada is dropped into his life, he discovers she is more than just a robot.
My Thoughts:
The idea of this graphic novel was interesting. People can purchase robots, but what if they are sentient and how would these machines be treated/what are their rights. However, I didn't love the art. It felt very flat and lacked personality. It was also very boring and very masculine. It picked up a bit at the end, but I don't know if I'm intrigued enough to get the next volume.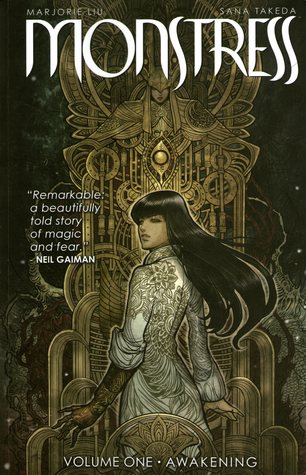 Monstress: Vol. 1
Written by Marjorie M. Liu and illustrated by Sana Takeda
Image Comics
Published: July 19th, 2016
Synopsis:



Set in an alternate matriarchal 1900's Asia, in a richly imagined world of art deco-inflected steam punk, MONSTRESS tells the story of a teenage girl who is struggling to survive the trauma of war, and who shares a mysterious psychic link with a monster of tremendous power, a connection that will transform them both and make them the target of both human and otherworldly powers.
I don't think I have ever read a comic or graphic novel more beautiful than Monstress. This graphic novel is dark, intense and suspenseful while building a world and magic system that is so unique. The thing about this story is that the for the majority of the story I had zero clue as to what was going on, but the art and the storytelling kept me intrigued to see what was actually going on. I immediately bought the second volume after finishing it!
ARCHIE VOL. 5 is the next installment in the collection of the historic ARCHIE series relaunch, featuring the talents of comics superstars Mark Waid, Audrey Mok and more. This series is true to the spirit and characters that all Archie fans know and love while reinvigorating its spirit and humor through the talents of some of the most acclaimed creators in the comic book industry.




The fallout from OVER THE EDGE is here! One life has been destroyed, another family has been torn apart--and only the kids of Riverdale High can save their town from imploding!
Ever since Riverdale came on, I've been devouring the new Archie comics and then I had to wait for this volume for almost a year after volume 4 left off on a huge cliffhanger. This one did not disappoint and I think it is my favorite volume of the series. It felt the most urgent, fast-paced, and actually had a lot of emotion. Archie was much more than a joke in this story. Betty and Archie's friendship and romantic tension actually felt real. The arc of this story started with their break-up, which was kind of stupid but I think this volume actually made the love-triangle feel heightened. As a comic reader, Betty and Archie are my ship to see them dance around their feelings in this one felt so compelling. The end of this felt like a step in a new direction for the next volume instead of just a continuation and I'm excited to see where Mark Waid goes next with these characters.
Riverdale: Vol. 2
Written by Roberto Aguirre-Sacasa and illustrated by Joe Eisma
Archie Comics
Published: April 17th, 2018
Goodreads

Synopsis:
From Roberto Aguirre-Sacasa and the writers of the CW's Riverdale comes the second collection of the comic book set in the universe of the TV series. RIVERDALE VOL. 2 offers a bold, subversive take on Archie, Betty, Veronica, Josie & the Pussycats and their friends, exploring small-town life and the darkness bubbling beneath Riverdale's wholesome facade.




Set in the same universe as the hit CW series, Vol. 2 features stories set in between episodes of the new CW TV series Riverdale:




* Meet Kevin Keller: an openly gay, well-liked member of Riverdale. Unfortunately, Kevin's likability doesn't always translate to romance, and finding a suitable partner in Riverdale is harder than you might think!

* Get a peek into what makes Riverdale High hot-shots Reggie Mantle and Josie McCoy tick. Reggie's used to getting what he wants, and sets his romantic sights on the lead singer of the Pussycats. But when Josie turns him down, just how far will Reggie go to convince her he's worth an audition?

* See all the secrets Pop Tate overhears in his day-to-day business, told through four vignettes in four different booths!

* Dilton Doiley has always been a little...borderline, but when his science teacher tells the class about an astronomical event they'll be observing, Dilton's worst fears are confirmed--the end of the world is nigh! As he takes drastic steps to prepare, Jughead is caught in a dilemma--should he humor Dilton or try to stop him? And what if Dilton's right...?
Another Archie comic, what a big surprise here! However, this one is unique because it is based on the show and features similar plot and characterization. These comics act as filler between the episodes for fans of the show. These comics aren't great and still have continuity issues with the show, but they are fun reads if you are really into the show and comics.
Betty & Veronica
Adam Hughes
Archie Comics
Published: November 28th, 2017
Goodreads
Synopsis:
It's Betty vs. Veronica! The most highly-anticipated reboot in comics history is here! Betty and Veronica are America's sweethearts - until they turn on each other! Pops' Chocklit Shoppe is being taken over by a huge coffee company. When Betty and Veronica go head-to-head over the issue, all bets are off! Friendships will shatter. Cities will burn. Nails will be broken. Betty and Veronica are back in this all-new collection from comics legend Adam Hughes
My Thoughts:
I loved that this was an entire dedicated volume to the two central female characters of the Archie comics, but it did fall short for me in that it was another volume narrated by a dog. It's super frustrating how often dogs are the narrators of Archie comics. This story centers around the rivalry of these two girls, but the twist is they weren't fighting but working together in secret the entire time. I think the twist is great but I would rather see a story that doesn't pit girls against each other even if they were in on it the whole time.
Image Comics
Published: October 23rd, 2012
Goodreads
Synopsis:
When two soldiers from opposite sides of a never-ending galactic war fall in love, they risk everything to bring a fragile new life into a dangerous old universe.




From bestselling writer Brian K. Vaughan, Saga is the sweeping tale of one young family fighting to find their place in the worlds. Fantasy and science fiction are wed like never before in this sexy, subversive drama for adults.
My Thoughts:
Saga is one of the most hyped graphic novel series of the moment with good reason. It is an epic tale told from the point of view of the daughter of a mixed-race couple whose races have been in an all-out war for as long as their societies can remember and have dragged in all of the surrounding planets. It's a journey for this family as they fight for freedom, but also the tale of the people who are trying to capture them. It's brilliant in its storytelling and worldbuilding. You just can't put this one down.
Are you a fan of graphic novels? Have you read any of these? What did you think? I would love some recommendations because I seem to only read Archie and anything Image does!