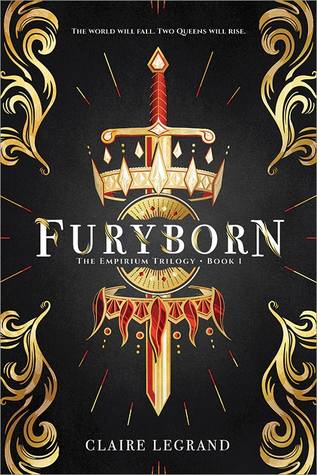 Title: Furyborn
Author: Claire Legrande
Genre: YA Fantasy
Pages: 512
Format: ARC
Published: May 22nd by Sourcebooks Fire
Stars: 5/5

Book Description:
Follows two fiercely independent young women, centuries apart, who hold the power to save their world...or doom it.




When assassins ambush her best friend, the crown prince, Rielle Dardenne risks everything to save him, exposing her ability to perform all seven kinds of elemental magic. The only people who should possess this extraordinary power are a pair of prophesied queens: a queen of light and salvation and a queen of blood and destruction. To prove she is the Sun Queen, Rielle must endure seven trials to test her magic. If she fails, she will be executed...unless the trials kill her first.




A thousand years later, the legend of Queen Rielle is a mere fairy tale to bounty hunter Eliana Ferracora. When the Undying Empire conquered her kingdom, she embraced violence to keep her family alive. Now, she believes herself untouchable--until her mother vanishes without a trace, along with countless other women in their city. To find her, Eliana joins a rebel captain on a dangerous mission and discovers that the evil at the heart of the empire is more terrible than she ever imagined.




As Rielle and Eliana fight in a cosmic war that spans millennia, their stories intersect, and the shocking connections between them ultimately determine the fate of their world--and of each other.
It's difficult to put into words how much I loved FURYBORN by Claire Legrand. This high fantasy follows the rise of two queens and their fights for freedom, power, and the ones they love. This a very mature YA fantasy that has a lot of cross-over potential.
5 Reasons Why You Need To Read Furyborn
The world of FURYBORN is unique in that it combines elemental magic with an inventive take on angel lore.
The story is told through alternating chapters from two very distinctly written point of views that are 1,000 years apart, yet are very intricately connected.
Rielle and Eliana are complicated, flawed, and dynamic heroines that you will love and hate at the same time. You can't trust them. You won't always agree with their choices. But somehow Claire Legrand makes you feel for them and their intense struggles.
FURYBORN begins with one of the great first chapters I have ever read. The story is set up outlining the stories of these two women. You think you know the kind of person Rielle is and her relationship with her kingdom and her husband, but when you follow what leads up to that moment none of it makes sense anymore. The same goes for Eliana who is expected to be this savior, but she's not the pure chosen one you expect.
If you love the fast-paced writing of Leigh Bardugo and Sarah J. Maas then you definitely need to read FURYBORN because it is both action-packed, filled with great character and relationship development. Rielle's trials, Eliana's fight scenes, and the romances are evidence that Claire Legrand has written a fantastically fast-paced fantasy novel.
Clearly, I loved this book and I could probably go on forever with reasons you should read it, but I think for me these five reasons would hook me the most if I was on the fence about checking it out.