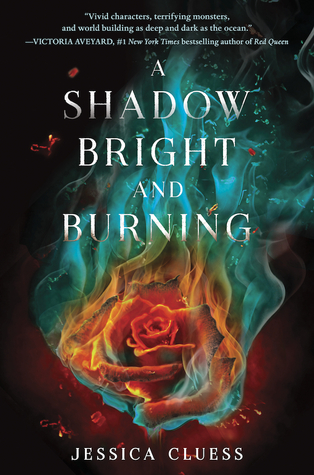 Title: A Shadow Bright and Burning
Series: Kingdom on Fire #1
Author: Jessica Cluess
Genre: YA Historical Fiction/Fantasy
Pages: 416
Format: ARC
Received: For Review From The Publisher
Releases: September 20th, 2016 from Random House Books for Young Readers
Stars: 5/5

Book Description:
I am Henrietta Howel. The first female sorcerer in hundreds of years. The prophesied one. Or am I? Henrietta Howel can burst into flames. Forced to reveal her power to save a friend, she's shocked when instead of being executed, she's invited to train as one of Her Majesty's royal sorcerers. Thrust into the glamour of Victorian London, Henrietta is declared the chosen one, the girl who will defeat the Ancients, bloodthirsty demons terrorizing humanity. She also meets her fellow sorcerer trainees, handsome young men eager to test her power and her heart. One will challenge her. One will fight for her. One will betray her. But Henrietta Howel is not the chosen one. As she plays a dangerous game of deception, she discovers that the sorcerers have their own secrets to protect. With battle looming, what does it mean to not be the one? And how much will she risk to save the city—and the one she loves? Exhilarating and gripping, Jessica Cluess's spellbinding fantasy introduces a powerful, unforgettably heroine, and a world filled with magic, romance, and betrayal. Hand to fans of Libba Bray, Sarah J. Maas, and Cassandra Clare.
A SHADOW BRIGHT AND BURNING is one of the best books I have read in quite some time. It was unique and fresh for the genre, but it was also really compelling. I loved the thematics that the novel played with as well as the characters and the world. This debut left me dying for more and I can't wait for the sequel.
This novel follows Henrietta Howel, a girl who can manipulate fire, who has just been discovered to be the first female sorcerer but in their need to find the prophesied one to save them from the Ancients they somehow didn't realize that she wasn't exactly a sorcerer. Henrietta may not be the chosen one, but she has that same quality that makes those types of characters so great. She is brave and easy to root for. She doesn't always do what is easy, but she also has vulnerabilities as well.
The world of this book was what really blew me away and hooked me in. The demons were so incredibly different from anything I have ever read. At times this book feels like Pacific Rim (the Guillermo Del Toro Godzilla-esque movie) meets Harry Potter, but set in Victorian London. It has that creepy Guillermo Del Toro vibe whilst being really fun and magical.
The romance plots of this story were also quite fantastic because they brought an extra dimension to the characters and added conflict, but never took away from the overall plot. I love some well done romance, but this story is so much more than that and I am so glad that it wasn't heavy on the romance, because it allowed for this strong female character to really shine.
Jessica Cluess excelled at creating very complex relationships and plot lines, all of the twists and turns took me by surprise. The novel also had this maturity that I loved. This story really took me by surprise. I didn't expect to love it as much as I did.
I think A SHADOW BRIGHT AND BURNING is going to be the book that I recommend to everyone on repeat, because it is seriously just that good. If you're looking for something different that will transport you this is the book you need to pick up.