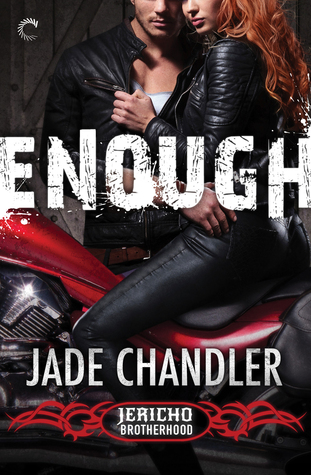 Title: Enough
Series: Jericho Brotherhood #1
Author: Jade Chandler
Genre: Adult Romance/Erotica
Pages: 274
Format: E-ARC
Received: For Review From the Publisher
Published: July 11th 2016 by Carina Press
Stars: 4/5
Book Description:
She wanted nothing to do with me. Well, that's too f*cking bad. My MC brothers call me Dare for a reason. I never back down from a challenge. And Lila was the sweetest challenge I ever faced. From the moment she walked into my tattoo shop, she was going to end up in my bed. Tied up, moaning my name and begging for more. Her past was a nightmare and I couldn't guarantee her a future. But I could promise her a good time. I didn't know what we would turn into, let alone how hard it'd be to stay away after my selfish ass sent her packing. Problem is, my girl is hot, so the same men I call brothers tried to claim her. There's not enough bourbon in the world to help me forget the love we shared. But to get her back, to prove she's more to me then a quick lay, I'll have to tell her the secret I've been hiding from everyone. Before she's gone forever.
Y'all know I'm a huge fan of romance novels, despite not posting a Square After Dark post in awhile, it is still a genre that I read a lot. I am especially an avid reader of motorcycle romances and Enough was another great novel in the same vein. Enough featured all of the expected tropes of Motorcycle romances as well as the same tropes from tattoo artist romances, but the depth of character development really surprised me.
Lila and Dare's relationship felt well developed, in that we saw them go through several stages of friendship to romance and there was a range of emotions through their journey. Personally, I enjoy seeing characters work through their own inner demons in New Adult/Adult romance novels. Lila had to deal with her rough up bringing and horrible choices in men, where as Dare was working through his severe dyslexia. I was really interested in the characterization of Dare being this strong macho motorcycle guy and yet he was so vulnerable from his depilating dyslexia. Imagine living as an adult and not being capable of reading, more than just not having access to literacy but to have your brain work against you. I think that aspect was really well done. I would have preferred that conflict worked into the story earlier on though.
When you are reading the first in companion series it is always important to really like the supporting characters. I really liked the motorcycle club. The dynamic was really interesting and not quite one that I have read yet. I didn't always love the fact that everyone seemed to want to sleep with Lila, it was just eye-roll worthy. But I did connect with a lot of the regular characters that were in the tattoo shop.
My major dislike about this novel was the weird additions of BDSM scenes that never seemed like they fit into the story. It kind of read like sex scenes for the sake of sex scenes. I think steamy scenes are always enjoyable when they fit into the storyline. I think this novel attempts to be a bit darker, but the tone just didn't match with these scenes. I do read darker erotica; I just was never taken with it in this book.
I highly recommend this novel. I think Enough is a great book to break into the MC Romance genre. It has great characters with lots of drama and lots of steaminess. I read this one in a very short amount of time and was completely hooked. I mainly read it on my phone, trying to read it everywhere I could. It wasn't perfect, but it was a very enjoyable read and still was able to be unique for a very trope filled sub-genre.