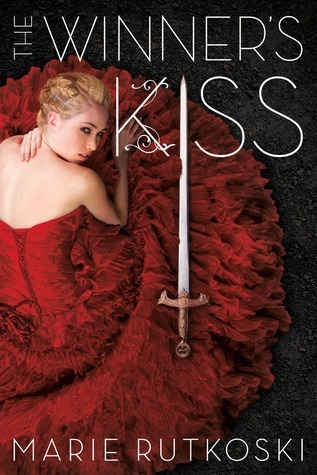 Title: The Winner's Kiss
Series: The Winner's Trilogy
Author: Marie Rutkoski
Genre: YA Fantasy
Pages: 484
Format: Hardcover
Received: Purchased
Published:

March 29th, 2016 by Farrar, Straus and Giroux (BYR)
Stars: 4.5/5
Book Description:
Some kisses come at a price. War has begun. Arin is in the thick of it with untrustworthy new allies and the empire as his enemy. Though he has convinced himself that he no longer loves Kestrel, Arin hasn't forgotten her, or how she became exactly the kind of person he has always despised. She cared more for the empire than she did for the lives of innocent people—and certainly more than she did for him. At least, that's what he thinks. In the frozen north, Kestrel is a prisoner in a brutal work camp. As she searches desperately for a way to escape, she wishes Arin could know what she sacrificed for him. She wishes she could make the empire pay for what they've done to her. But no one gets what they want just by wishing. As the war intensifies, both Kestrel and Arin discover that the world is changing. The East is pitted against the West, and they are caught in between. With so much to lose, can anybody really win?
Check out my reviews of the first two books in this series:
This is one of my all time favorite series. We can all just bow down to how amazing Marie Rutkoski is. I received an E-ARC of this book to read early, as I had read all of the other books in the series early, but I couldn't get myself to pick this one up. I knew that the start of this one was going to be dark. I knew that I was going to be upset to see one of my favorite series end. I knew that if I didn't love this book I would be really disappointed. I ended up really enjoying this book. It wasn't perfect, but my love for this series was established in the first two books and that definitely has a lot of pull on my feelings about this book.
After the end of The Winner's Crime, which was the best/worst cliff hanger ever, I knew this one wasn't going to be the happiest beginning a book could have. I really loved the beginning of this book. We see the residual of all of the scheming from the last book.
The middle of this book was the most problematic for me. It just dragged on quite a bit. I didn't hate what was happening plot wise, but it was just insanely slow. Marie Rutkoski is a stunning prose writer and her descriptions of emotions are beautiful as well as heartbreaking. I just think this book suffered from a hundred pages of unnecessary rehash of things that seemed to previously in the series. I think I'm just not a fan of the amnesia trope, it seems like a defeatist plot twist. It also made Kestrel more unlikable.
I think Arin and Roshar were the stand outs for this book. Arin's character development was on full display in this book. Roshar was that unexpected character that I really loved. I went to a signing recently that featured Marie Rutkoski and the question of a potential spin-off was asked. Marie said she would be interested in writing more of Roshar. I loved the scenes in the camp when he talked about his sexuality or the whole Arin the tiger thing.
I loved that we actually got some really great war scenes. There are so many YA series that lead up to something and then there is no actual war. Again, it was kind of drawn out but it was well written and some of the best parts of the novel. I loved the scene between Kestrel and the King. It really embodied the books.
I loved that we finally got to see Arin and Kestrel together. There was something bittersweet about their relationship. I wish there wasn't the whole amnesia plot, but it all worked out in the end. The last chapter was really amazing and left me with a smile on my face rather than tears.
Sometimes there are books that I love even though they weren't perfect and this was one of them. I will always be a champion of this series. Marie Rutkoski is a phenomenal writer and I will auto-buy whatever she writes next. Was this my favorite book of the series? No, but I think it was a really great and satisfying conclusion although it did have some problems. You should totally binge read this series if you haven't started it yet, but prepare yourself for a lot of feels!