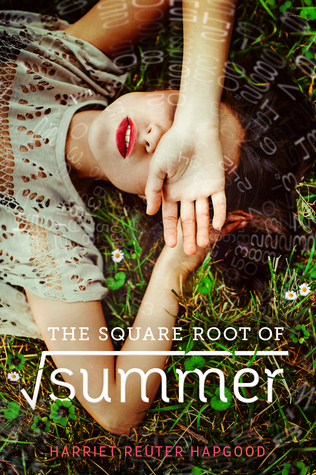 Title: The Square Root of Summer
Author: Harriet Reuter Hapgood
Genre: YA Contemporary (Maybe, at this point I don't know)
Pages: 295
Format: ARC
Received: For Review From the Publisher
Published: May 3rd, 2016 by Roaring Springs Press
Stars: 2/5
Book Description:
This is what it means to love someone. This is what it means to grieve someone. It's a little bit like a black hole. It's a little bit like infinity. Gottie H. Oppenheimer is losing time. Literally. When the fabric of the universe around her seaside town begins to fray, she's hurtled through wormholes to her past: To last summer, when her grandfather Grey died. To the afternoon she fell in love with Jason, who wouldn't even hold her hand at the funeral. To the day her best friend Thomas moved away and left her behind with a scar on her hand and a black hole in her memory. Although Grey is still gone, Jason and Thomas are back, and Gottie's past, present, and future are about to collide—and someone's heart is about to be broken. With time travel, quantum physics, and sweeping romance, The Square Root of Summer is an exponentially enthralling story about love, loss, and trying to figure it all out, from stunning debut YA voice, Harriet Reuter Hapgood.
I kept seeing this book get a lot of love from the book community and really wanted to read it. Seriously, look at that cover!
So when Steph from
In Wonderland
and I relaunched our book club and decided on the June theme being Beach Reads, I just knew this book had to be on the polls! This wasn't the book that I voted for though, I was pushing Me Before You, which I devoured anyway. This book won and I started it. I got into reading this one really fast, but despite how fast it hooked me I was not enjoying what I was reading.
This book was so strange. I knew that it had "time travel" aspects, but I wasn't prepared for what it actually was. Gottie is dealing with immense grief over the passing of her grandfather and ends up in a downward spiral. She is obsessed with physics and space-time theories, so she decides that the blackouts and flashbacks she is suffering from are from her time-traveling. But then as a reader, you end up conflicted over whether she is or isn't actually time-traveling. I genuinely don't believe that she was based on all of the book, but the end makes me think otherwise. I just don't like magical realism books, that are pretty much realistic fiction except for little bits of world building that make you believe otherwise.
There were some things that I enjoyed about the novel that made me decide on 2 stars rather than 1. I liked that the family was German. I liked seeing a female character love physics. I liked the romance, friendship conflicts. I just was not a fan of how the family and friends reacted to Gottie's grief. They called her out as being selfish and self involved, but how could you not see that there something more and not health going on with her. If you take time-travel aspects, there was some bad warning signs of someone who needs help. I just don't love how mental illness was approached in this book.
I can understand why some some people really liked this book. The writing was really good and the illustrations made for a fun read. It held my attention, but there were problematic issues. The time-travel mainly just confused me because the author didn't really take a side on whether this was real or not real. Overall, not a book that I would recommend!