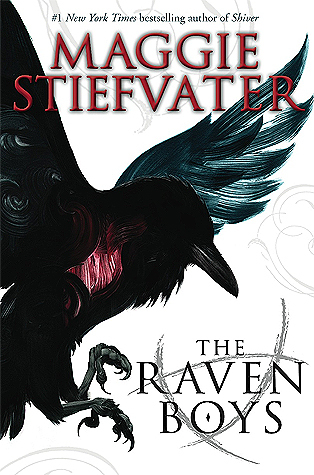 Title: The Raven Boys
Series: The Raven Cycle #1
Author: Maggie Stiefvater
Genre: YA Paranormal
Pages: 409
Format: Paperback
Received: Purchased
Published: September 18th, 2012 by Scholastic Press
Stars: 4/5
Book Description:
Every year, Blue Sargent stands next to her clairvoyant mother as the soon-to-be dead walk past. Blue never sees them--until this year, when a boy emerges from the dark and speaks to her. His name is Gansey, a rich student at Aglionby, the local private school. Blue has a policy of staying away from Aglionby boys. Known as Raven Boys, they can only mean trouble. But Blue is drawn to Gansey, in a way she can't entirely explain. He is on a quest that has encompassed three other Raven Boys: Adam, the scholarship student who resents the privilege around him; Ronan, the fierce soul whose emotions range from anger to despair; and Noah, the taciturn watcher who notices many things but says very little. For as long as she can remember, Blue has been warned that she will cause her true love to die. She doesn't believe in true love, and never thought this would be a problem. But as her life becomes caught up in the strange and sinister world of the Raven Boys, she's not so sure anymore.
SO I FINALLY DID IT! I READ THE BOOK THAT HAS ALL OF THE HYPE! I really wanted to binge read this series in time to go see Maggie at a book signing, but alas I didn't own the rest of the books and it was right after school had finished. But I still plan on reading the rest of this series this summer because I need to know what happens next. The entire time I was reading it was DMing
Melissa @ Live Love Read YA
on Twitter what I was thinking/reactions and all of my theories, all though she won't tell me if any of them were right.
Basically, everyone has read and reviewed this book at this point except for me. I was surprised by how different this book was. It truly has this otherworldly feel. It was a breath of fresh air. I'm really glad that I didn't know anything going into this one. I loved Maggie's writing. She weaved this strange mythology and characters so well. There were so many twists that I saw coming and yet was still floored by them, which just shows how well this book was written.
I just loved the atmosphere of this book. It was so quirky and weird. I have to say it took me awhile to get really into this one. The pacing was really slow and then it picked up so fast at the end. The slow beginning as the characters and world were being built was the reason this book didn't get 5 stars from me.
So as ships go I ship Blue and Gansey, Adam and Ronan, and then Noah with myself. I felt the Adam and Ronan chemistry hardcore BUT Melissa won't tell me about it. I also don't want to go and spoil myself so I won't look it up.
I bought the second book and I plan to read it soon. I just don't know why it took me so long to start this series. I do have to say that the hype is real, so if you're like me and you feel so behind on this I say get on the hype train and start this series!