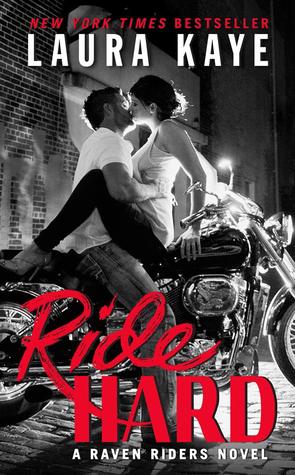 Title: Ride Hard
Series: Raven Rider #1
Author: Laura Kaye
Genre: Adult Romance
Pages: 320
Format: Mass Market Paperback
Received: For Review from the Publisher
Published: April 26th 2016, by Avon
Stars: 3/5
Book Description:
Brotherhood. Club. Family. They live and ride by their own rules. These are the Raven Riders . . . Raven Riders Motorcycle Club President Dare Kenyon rides hard and values loyalty above all else. He'll do anything to protect the brotherhood of bikers—the only family he's got—as well as those who can't defend themselves. So when mistrustful Haven Randall lands on the club's doorstep scared that she's being hunted, Dare takes her in, swears to keep her safe, and pushes to learn the secrets overshadowing her pretty smile. Haven fled from years of abuse at the hands of her criminal father and is suspicious of any man's promises, including those of the darkly sexy and overwhelmingly intense Ravens' leader. But as the powerful attraction between them flares to life, Dare pushes her boundaries and tempts her to want things she never thought she could. The past never dies without a fight, but Dare Kenyon's never backed down before . . .
Motorcycle romances are definitely one of my favorite tropes in erotica. I love the bad boy romances. This one was just okay for me. It was a fun read that passed the time, but I wasn't as emotionally connected to the characters. The high-stakes parts of the novel felt really far fetched and everything was super coincidental. It was definitely not the best nor the worst motorcycle romance that I've read.
Ride Hard was way too long. This story didn't need to last for 320 pages. The middle was really boring and nothing happened. I wanted more complications in the romance. It just happened. I know this is a spin-off series, but there was too much discussion of the other clubs. I didn't read that series and just found myself skimming over the discussions of that.
Dare could have been developed so much more. His backstory was told in a few pages and never really discussed when it was super dark. I think Laura Kaye tried to walk the fine line of dark and fluffy as well as action and romance. It just didn't work for me.
I did like the tropes that this novel relied on. I like the genre, but I don't think this was the best one that I've read. I am interested in reading more Laura Kaye, I just don't think this plot was that great. If you're looking for a no stress read for the beach, I think this would be good for that.
Have you read any motorcycle romances? Which ones would you recommend?