This past year I have really been into adult romances. I have been hesitant to post anything on this blog, in respect to reviews, because I try to keep this blog strictly YA and NA. But I like adult romance and I decided instead of making a separate blog making a meme of my adult romance endeavors may be more fun; honestly I haven't read that much adult romance in general.
An Old Obsession (But a Goodie): Brooding Billionaire Romances
This is one of those tropes in romance that I am constantly coming back to. I don't know what it is, maybe I am just obsessed with materialism, but I find this to be my comfort reads.
No Ordinary Billionaire by J.S Scott (The Sinclairs #1)
Published March 31st 2015 by Montlake Romance
Goodreads | Amazon
4 stars
Book Description:
Dante Sinclair never cared about his family's money. All the young billionaire ever wanted was to be a cop; and now that he's a homicide detective in Los Angeles, he's a damn good one. But when he is injured and loses his partner in the line of duty, he returns to his vacation home in Amesport, Maine, to recover. Sarah Baxter, a brilliant young doctor still struggling with her stifled upbringing, has recently moved from Chicago to sleepy Amesport to escape her past, hoping to find peace. When Sarah is assigned to Dante's case, there's an instant heat between them. They couldn't possibly be more different, yet their igniting passion is impossible to ignore. As new feelings awaken within Sarah, her haunted past returns, threatening her once again. But can Dante overcome his grief and discover the secrets Sarah is hiding in time to protect and rescue her?
I didn't expect to love this book as much as I did. I fell in love with Dante, this cop who just also happens to be a billionaire but is really rough around the edges. Sarah was a really interesting character because she was very different from a lot of romance heroines. She was memorable and unique. I liked that each character had their own dark secrets and pasts that they had to recover from. I liked all of the supporting characters and the overall feel of Amesport. This is a perfect pick me up read. Dante is this sexy alpha guy, but it doesn't go places that some erotic go. I think if you're someone who is just dabbling in romance you would love this one, but if you're an avid romance reader you will enjoy it as well.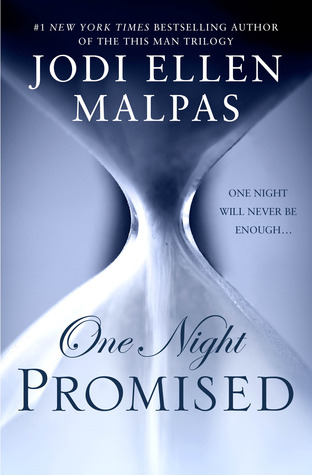 Promised by Jodi Ellen Malpas (One Night #1)
P
ublished July 17th 2014 by Forever (Grand Central Publishing)
Goodreads | Amazon
3 stars
Book Description:
Livy notices him the moment he walks into the coffee shop. He's heart-stoppingly stunning, with a blue-eyed gaze so piercing she's almost too distracted to take his order. When he walks out the door, she thinks she'll never see him again. Then she finds the note he left on his napkin . . . signed M. All he wants is one night to worship her. No feelings, no commitment, nothing but pleasure. Every defense mechanism Livy has adopted during her solitary life is at risk of being obliterated by this confounding man. He's obnoxious but well-mannered. He's a gentleman but aloof. He's passionate but emotionless. Yet the fascination is so powerful, Livy can't deny him... or herself. M awakens something in Livy, something deep and addictive that she never knew existed -- and that she fears only he can satisfy. But she senses that behind the fast cars, fancy suits, and posh apartment, he's aching inside. To have him, body and soul, she'll have to brave his dark secrets. Delving into his world and breaking down his defenses become her obsession - an obsession that could shatter her heart beyond repair..
This is my third Jodi Ellen Malpas and I've realized that her books make for great binge reads, but they aren't the best written book. I usually enjoy the premise of her books, but her follow through tends to rub me the wrong way especially in book two. (I didn't love the second book in this series.) I love the huge twists in her books and loved this one's twist. I like reading that domineering/toxic relationship, I don't know what that says about me, but I realize that isn't something everyone likes. I like the obsession aspects of Malpas' books. I tend to read her books during the middle of the night, when insomnia strikes, and get hooked to the point that I don't sleep until it is finished. The problem is Malpas' books don't stand up well in the light of day for me.
Releases: October 20th 2012
Goodreads | Amazon
4 stars
Book Description:
When reserved flight attendant Bianca gets one look at billionaire hotel owner James Cavendish, she loses all of her hard-won composure. For a girl who can easily juggle a tray of champagne flutes at 35,000 feet in three inch heels, she finds herself shockingly weak-kneed from their first encounter. The normally unruffled Bianca can't seem to look away from his electrifying turquoise gaze. They hold a challenge, and a promise, that she finds impossible to resist, and she is a girl who is used to saying no and meaning it. Bianca is accustomed to dealing with supermodels and movie stars in her job as a first class flight attendant, but James Cavendish puts them all to shame in the looks department. If only it were just his looks that she found so irresistible about the intimidating man, Bianca could have ignored his attentions. But what tempts her like never before is the dominant pull he seems to have over her from the moment they meet, and the promise of pleasure, and pain, that she reads in his eyes.

I really liked
In Flight.
I loved the fact that Bianca was a flight attendant; I've never read a book where that was the occupation of the main character. I think that job is one that is romanticized and works so well in a romance novel. James had that dominant personality that I like to read in romance novels, but he wasn't as overwhelming as some alpha male characters tend to be, which I enjoyed. But because Bianca was so subdued as a character and was dealing with so much, it made the juxtaposition even greater between the two. Bianca, for me, was the only problem in the story. She was just too much of a tortured soul that it led for the storytelling to become a bit bland. That being said I really got swept up in this story.
Have you read any brooding billionaire books? I bet you have! I would love some recommendations! Also, are there any other erotica tropes that you would like to see in a Square After Dark post?