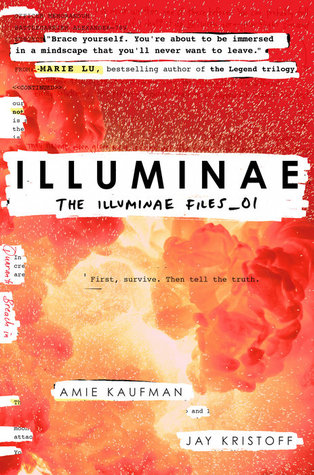 Title: Illuminae
Series: The Illuminae Files #1
Authors: Amie Kaufman and Jay Kristoff
Genre: YA Science Fiction
Pages: 599
Format: ARC
Received: At BEA
Published: October 20th, 2015 by Knopf Books for Young Readers
Book Description:
This morning, Kady thought breaking up with Ezra was the hardest thing she'd have to do. This afternoon, her planet was invaded. The year is 2575, and two rival megacorporations are at war over a planet that's little more than an ice-covered speck at the edge of the universe. Too bad nobody thought to warn the people living on it. With enemy fire raining down on them, Kady and Ezra—who are barely even talking to each other—are forced to fight their way onto an evacuating fleet, with an enemy warship in hot pursuit. But their problems are just getting started. A deadly plague has broken out and is mutating, with terrifying results; the fleet's AI, which should be protecting them, may actually be their enemy; and nobody in charge will say what's really going on. As Kady hacks into a tangled web of data to find the truth, it's clear only one person can help her bring it all to light: the ex-boyfriend she swore she'd never speak to again. Told through a fascinating dossier of hacked documents—including emails, schematics, military files, IMs, medical reports, interviews, and more—Illuminae is the first book in a heart-stopping, high-octane trilogy about lives interrupted, the price of truth, and the courage of everyday heroes.
I went into Illuminae completely blind. I didn't know anything about the plot or this book, other than the fact that words were blocked out. This book completely blew my mind.
The interior formatting was just incredible. Hats off to the authors and publisher for working out all of the amazing AIDAN pages. It was incredibly unique and unlike anything I had ever seen in a book before. It added so much to the world-buliding. I loved that were was never a traditional narrative, but the story was still just as powerful. The most interesting part was the narrative voice of AIDAN and being able to read the thoughts of an artificial intelligence system who became a character that you felt an emotional connection to made this novel even more brilliant.
The beginning was a bit hard to get into and adjust to the style. I wasn't quite sure where this story was heading, but once the story picked up I was hooked. The use of the interviews, emails, IMs, and other various uses of storytelling made it a fast read.
Kady was just an incredible character. Kaufman and Kristoff just dragged my heart throughout space. I cried so much. So many tears. It was glorious. There were so many amazing plot twists. My heart dropped into my stomach way too many times. There were plenty of very brutal moments that I didn't expect when I started this book.
This is the best YA in space novel that I have read, and it is one of the best YA novels that I have read in a while. I cannot recommend this book enough. If your not into scifi, you just need to experience this book. Illuminae is a breath of fresh air and I can't wait to see what Amie Kaufman and Jay Kristoff have in store for Gemina. This author collaboration was my everything.