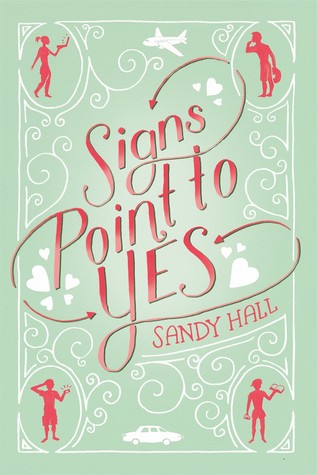 Title: Signs Point To Yes
Author: Sandy Hall
Genre: YA Contemporary
Pages: 288
Format: ARC
Received: At BEA
Releases: October 20th, 2015 from Swoon Reads
Stars: 4/5
Book Description:
The author of A Little Something Different brings you the most adorkable romance ever. Jane, a superstitious fangirl, takes an anonymous babysitting job to avoid an unpaid internship with her college-obsessed mom. The only problem? She's babysitting the siblings of her childhood friend and new crush, Teo. Teo doesn't dislike Jane, but his best friend Ravi hates her, and is determined to keep them apart. So Teo's pretty sure his plans for a peaceful summer are shot. His only hope is that his intermittent search for his birth father will finally pan out and he'll find a new, less awkward home. Meanwhile, at Jane's house, her sister Margo wants to come out as bisexual, but she's terrified of how her parents will react. In a summer filled with secrets and questions, even Jane's Magic 8 ball can't give them clear answers, but Signs Point to Yes.
Check out my review of
A Little Something Different
HERE
I absolutely adored A Little Something Different, Sandy Hall's debut, it was a breath of fresh air and became an instant favorite. I was beyond excited for Signs Point To Yes and immediately started reading it on the BEA show floor after meeting Sandy Hall. There is something just so sweet about Sandy Hall's story telling. I do have to say that A Little Something Different is definitely a better book and brilliantly original.

Jane is a very relatable character. She is a fangirl and is completely awkward. I think any recent High School graduate can understand her annoyance with applying for college. She is a character that you can see your self in. Plus, Sandy Hall writes teenage girl dialogue just so well.

I love how Sandy Hall deals with narrators. I like that it switches and we get to see the problems facing all of the characters rather than just Jane. I don't think it was done as specularly as A Little Something Different though. I really enjoyed Margo's storyline in particular. She was a character that was just really interesting and even more interesting from Jane's perspective as well.

There were some parts of the book that just felt really young. It just wasn't hugely unique or different. I love Sandy Hall's writing, but this plot wasn't anything truly special. I did really like the significance of the magic 8 ball in the book and the Signs Point To Yes meaning.

But I couldn't help but get the feels. This book was a great summer read for me. It was quick and easy to get through. I was really entertained by this one. It was such a fun read that had a pretty light narrative.

I highly recommend you read A Little Something Different and I think Signs Point To Yes is definitely a fun read. It was quick and enjoyable. It was just really cute. I will definitely be reading anything else from Sandy Hall and yet another great book from Swoon Reads.

Have you read Signs Point To Yes already? What did you think? Have you read A Little Something Different yet?