Welcome to Day 11 of the 12 Days of Lailah that
Styclar Street Team
Founders are doing! Lailah is one of my favorite reads this year. Nikki Kelly is absolutely amazing!
You may have noticed my absence the last few days. I have been baking like crazy. I have made specific cookies that remind me of Lailah!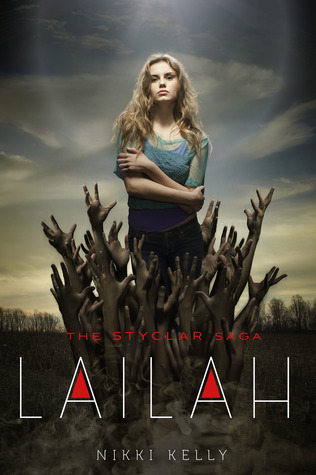 Title: Lailah
Series: The Styclar Saga #1
Author: Nikki Kelly
Genre: YA Paranormal
Pages: 416
Published: October 7th 2014 by Feiwel & Friends
Book Description:


The girl knows she's different. She doesn't age. She has no family. She has visions of a past life, but no clear clues as to what she is, or where she comes from. But there is a face in her dreams – a light that breaks through the darkness. She knows his name is Gabriel.





On her way home from work, the girl encounters an injured stranger whose name is Jonah. Soon, she will understand that Jonah belongs to a generation of Vampires that serve even darker forces. Jonah and the few like him, are fighting with help from an unlikely Allie – a rogue Angel, named Gabriel.





In the crossfire between good and evil, love and hate, and life and death, the girl learns her name: Lailah. But when the lines between black and white begin to blur, where in the spectrum will she find her place? And with whom?





Gabriel and Jonah both want to protect her. But Lailah will have to fight her own battle to find out who she truly is.





Gabriel Cookies
These remind me of Gabriel because of how light and sweet they are. These cookies are covered in powdered sugar and can be a bit overly sweet. As a Jonah fan too much sweetness can leave a bad taste in your mouth. But these are really great cookies.
Lailah and Jonah's Christmas Tree
These Christmas Tree Brownies didn't come out that great, but they are fun especially if you have little kids in the house. The decorating can get a little messy just like Lailah and Jonah's Christmas tree.
Recipe Found Here
Jonah Cookies
These no bake cookies are Jonah for me. They are chocolate chip cookie dough covered in semi-sweet chocolate. You have to keep these refrigerated so the chocolate doesn't melt. Therefore these are rather hard when you first bite into them and then you get the softness of the cookie dough. The hard outer-shell with the soft cookie on the inside immediately brings Jonah to mind for me.
Lailah Cookies
This was definitely the easiest cookie to make, it is more of a pastry though, and definitely one of my favorites. It is store bought pie crust with a Hershey Kiss inside. As an added touch I put sea salt and carmel sauce on some. They have this light airy crust with the sweetness of the Hershey kiss in them. These remind me of Lailah because of the coloring, the taste, and my own ship. Lailah has this inner darkness that we see unfold throughout the book and when the wonton shape cookie is bitten into you can see this baked chocolate. The crust has a light taste, but the chocolate is darker and sweeter. At first Gabriel seems like the obvious choice (the crust is all you see at first, but then Lailah and Jonah's characters develop and you see that they have more in common (the inner darkness).
*Sunday, December 14th:

Beth at Curling Up With a Good Book shares a Lailah-themed Christmas playlist.
*Monday, December 15th:

Brittany at Please Feed the Bookworm matches Lailah characters to their fitting ugly Christmas sweaters.
*Tuesday, December 16th:

Rachel at A Perfection Called Books shares exactly what to get the Lailah, Gabriel and Jonah for Christmas.
*Wednesday, December 17th:

Patricia at The Unofficial Addiction Book Fan Club shines some light on exactly how Gabriel and Jonah would celebrate the holidays in their respective realms.
*Thursday, December 18th:

Pili at In Love With Handmade whips up some Lailah holiday cupcakes.
*Friday, December 19th:

Andrew at Endlessly Reading showcases Jonah and Brooke's potential Christmas outfits.
*Saturday, December 20th:

Jessica at The Book Bratz hosts a guest post by Lailah author Nikki Kelly where she shares her favorite Christmas traditions and memories.
*Sunday, December 21st:

Ri at Hiver et Cafe releases some exclusive Lailah quotes and shares her take on what Lailah would wear for Christmas.
*Monday, December 22nd:

Andrew at Endlessly Reading hosts a character interview with author Nikki Kelly, Lailah, Jonah and Gabriel.
*Tuesday, December 23rd:

Genissa at A Story Diary hosts a guest post from Nikki Kelly about the Christmas scene from Lailah.
*Wednesday, December 24th:

Dana at Dana Square bakes some Lailah-inspired Christmas cookies.
*Thursday, December 25th:

Amber at The Book Bratz releases a brand-new rendition of The Twelve Days of Christmas - Lailah style