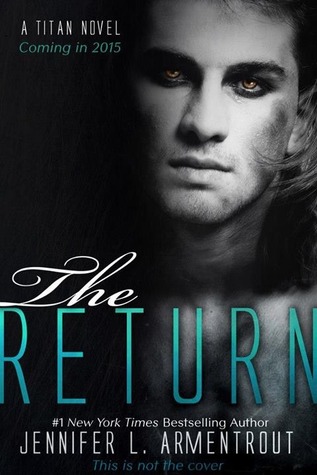 Title: The Return
Series: Titan #1 (Spin-off to Covenant Series)
Author: Jennifer L. Armentrout
Genre: NA Fantasy/ Mythology
Pages: 355
Format: ARC
Received: From BookCon
Releases: February 17th 2015 by Spencer Hill Press
Stars:4/5
Book Description:
It's been a year since Seth made the deal with the gods that pledged his life to them. And so far, the jobs they've given him have been violent and bloody – which is kind of all right with him. But now Apollo has something else in mind for Seth. He's got to play protector while keeping his hands and fingers off, and for someone who really has a problem with restraint, this new assignment might be the most challenging yet.





Josie has no idea what this crazy hot guy's deal might be, but it's a good bet that his arrival means the new life she started after leaving home is about to be thrown into an Olympian-sized blender turned up to "puree". Either Josie is going insane or a nightmare straight out of an ancient myth is gunning for her.





But it might be the unlikely attraction simmering between her and the golden-eyed, secret-keeping Seth that may prove to be the most dangerous thing of all.





Other Reviews of Jennifer L. Armentrout's Books
Clearly I am a fan of Jennifer L. Armentrout's books. This is the 16th review of one of her books on this blog. She is by far my favorite author and I love how diverse all of her books are. Yet, you can always expect a few of the same things with everyone of her books. There will always be fantastic characters, amazing writing, a great plot, and most likely some laughs along the way. The Return is the first book in the spin-off series following Seth, after the end of the Covenant Series. Sentinel was an amazing conclusion to one of my favorite series and wrapped up all of the character arcs. The only character who didn't get a happy ending was Seth. The Return is a great start to a new series and I am already dying for the sequel.
Jennifer L. Armentrout's books have come to be my favorite because of the characters. These characters have complicated and dark back stories and yet they are still extremely funny. I love Seth's voice especially now that he is the narrator. Seth was always a character I loved even though I shouldn't have. Josie is a new character who I really enjoyed and I was glad for her differences from Alex. There are quite a few characters that we know and love from the original series. Marcus, Solos, Alexander, Deacon and Luke make appearances. I have to say seeing Deacon and Luke made me so happy. One thing I love about Jennifer L. Armentrout's writing is how relevant it is. Deacon makes Supernatural (TV Show) references. I feel like that makes readers connect even more with these characters.
I really loved the plot. I feel like there are so many places for this series to go. It is definitely darker and more mature than the Covenant series. I love the Titan plot and the fact that she is dealing with demigods this time around. I do hope that at some point Alex and Aiden do make an appearance. This book is perfect as NA. I think if you are afraid of reading New Adult books this would be a great stepping stone. It is steamy and mature. They curse and they drink. There were many swoon worthy moments. You just need to go read them for yourself.
The Return is in a dual point of view. Seth and the new female protagonist Josie narrate this story. I loved getting to read Seth's though process and seeing him get to be the good guy of his own story. Josie is incredibly sweet and is a great match for Seth. She is sweet, but still manages to be a strong character even if she isn't physically strong. One of the reasons this book didn't get 5 stars from me has to do with the point of views. The narration switched at random points in the novel and there was no clear indication of it having switched you just at it out based on where they were and who they were talking to. This was confusing and tedious as a reader I don't want to try and figure out which character the is following.
My other major problem with this book was the pacing. It just didn't match up well. The first half of the book spans a couple days and so much happens, yet it felt really slow. The pacing just contradicted the time which was strange and frustrated me. It just didn't feel like her other books where pacing is concerned.
If you loved the Covenant series, you have to read The Return. Jennifer L. Armentrout is bring back the characters you love and the world you fell in love with. I can't wait to see what happens next because it looks like it will be explosive. I am hooked on this new series! Where is book 2?