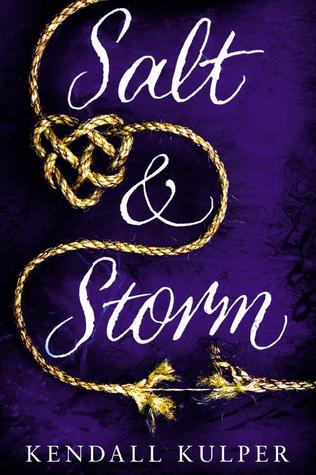 Title: Salt & Storm
Series: N/A
Author: Kendall Kulper
Genre: YA Fantasy/Historical Fiction
Pages: 368
Format: eARC
Received: For Review from Netgalley. Thanks so much!
Releases: September 23rd, 2014 by Little, Brown Books
Stars: 3/5
Book Description:
A sweeping historical romance about a witch who foresees her own murder--and the one boy who can help change her future.

Sixteen-year-old Avery Roe wants only to take her rightful place as the witch of Prince Island, making the charms that keep the island's whalers safe at sea, but her mother has forced her into a magic-free world of proper manners and respectability. When Avery dreams she's to be murdered, she knows time is running out to unlock her magic and save herself.

Avery finds an unexpected ally in a tattooed harpoon boy named Tane--a sailor with magic of his own, who moves Avery in ways she never expected. Becoming a witch might stop her murder and save her island from ruin, but Avery discovers her magic requires a sacrifice she never prepared for.
Review:
I was immediately taken with this pretty cover, yet I had no idea of the epicness that was in store when I opened up this book. I hadn't even read the synopsis! I just remembered bloggers mentioning it was about witches, so imagine my surprise when I was blown away by this story. As much as I liked it though, there were definitely flaws.
Salt & Storm
is a wholly original and unpredictable story. It's a breath of fresh air. The themes are still similar to most books, but the plot was unique and wonderful, and the way that the themes were addressed and brought forward was different from the norm. The execution was wonderful; the writing was lovely. The pacing was good for the most part, but sometimes things were dragging and awfully slow.
I love the historical fiction aspect and the island & sea setting of the novel. It's entwined with the plot so heavily and helps it along. Reading about the magic was captivating and learning about the witches' history and how they get their magic was equally interesting.
What ruined this book for me was the main character. I had a love/hate (mostly hate) relationship with Avery Roe. She has a MAJOR anger-management problem. She gets mad so quickly. She's stubborn as an ox. She refuses to see things from other people's point of view and has no social graces at all. Overall the girl was just so infuriating!! Tane was so descriptive and sweet and wonderful. I felt that his character wasn't original though. I felt a lack of great secondary characters as well.
The romance between Tane and Avery was perfect. It's great to see a swoon-worthy romance that develops sweetly. Kulper does a great job of depicting love and the sacrifices people are willing to do for those they love.
The ending tore me apart. It was quite unexpected. It was bittersweet.
Shoot. I wish I had more to say. This book just left me shocked and shattered. It's a bit sad and pointless in the end, but I think I'd recommend it!