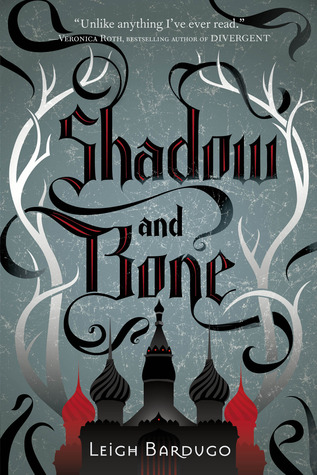 Title: Shadow and Bone
Series: The Grisha #1
Author: Leigh Bardugo
Genre: YA Fantasy
Pages: 358
Format: Hardcover
Received: Purchased
Published: June 5th, 2012 by Henry Holt C. (BYR)
Stars: 5/5
Book Description:
The Shadow Fold, a swathe of impenetrable darkness, crawling with monsters that feast on human flesh, is slowly destroying the once-great nation of Ravka.





Alina, a pale, lonely orphan, discovers a unique power that thrusts her into the lavish world of the kingdom's magical elite—the Grisha. Could she be the key to unravelling the dark fabric of the Shadow Fold and setting Ravka free?





The Darkling, a creature of seductive charm and terrifying power, leader of the Grisha. If Alina is to fulfill her destiny, she must discover how to unlock her gift and face up to her dangerous attraction to him.





But what of Mal, Alina's childhood best friend? As Alina contemplates her dazzling new future, why can't she ever quite forget him?





Review:
In the world of YA books The Grisha Trilogy is one of the most hyped book series. So I need to ask myself, WHY DID I NOT READ THIS SOONER? Sometimes I question my reading choices, seriously. This book was as epic as everyone has said. Throne of Glass was my first dip into YA epic/high fantasy and I loved it. I went into Shadow and Bone not really knowing what the book was about and I think that made me enjoy it even more.
I love the characters that Leigh Bardugo has created. Alina is this unlikely heroine, who you know has amazing potential and she can never quite see that. Aline did frustrate me at times, but it never took away from my enjoyment of the story. The Darkling is a character that I fell head over heels for. He really is this character that you know that you shouldn't like him or trust him, but you absolutely love him anyway. Leigh Bardugo really knows how to twist at my heart strings.
The world is absolutely incredible. I love that this is based off of Russia. The world is so complete and I felt immersed in every aspect of it.From the food, clothing, and language we get to see a fully developed world. I have trouble connecting with fantasy stories because they have the tendency to throw you into this world and as a reader you don't always understand the nuances of the world. I loved that even though Ravka and the fold are so vast Leigh Bardugo takes her time with the world building. It is very gradual and I loved that. There were many new words used. I don't speak Russian so they may have been Russian, I really don't know. I found it great that most of the wor
ds were translated if there were context clues as to what they meant.
Magic is really a large part of this story. As I am venturing more and more into YA high/epic Fantasy I have quite a few books that don't focus largely on magic. I love how magic is used in this story. Magic affects every aspect of someones life and dictates your rank.
The plot twists were amazing and I was so wrapped up in the story that I never saw them coming. I didn't even want to believe the plot twists concerning The Darkling were true because I love him. Leigh Bardugo is definitely able to appease those who hate love triangles with this book. There is two prospective love interests for Alina, but after some events most people won't see more than one love interest as a viable option.
Shadow and Bone is intricate and fantastic in every way. I have no idea why it took me so long to start this series. The only good thing about this is that I don't have to wait for the sequel. Siege and Storm I am coming to conquer you!