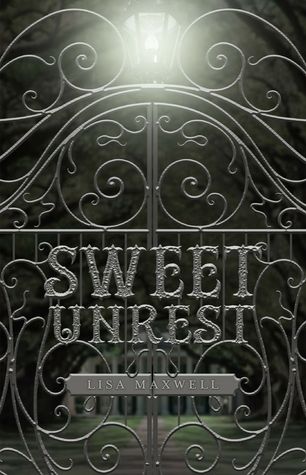 Title: Sweet Unrest
Series: N/A
Author: Lisa Maxwell
Genre: YA Paranormal
Pages: 336
Format: eARC
Received: For Review from Netgalley. Thanks so much!
Releases: October 8th, 2014 by Flux
Stars: 2/5
Book Description:
Lucy Aimes has always been practical. But try as she might, she can't come up with a logical explanation for the recurring dreams that have always haunted her. Dark dreams. Dreams of a long-ago place filled with people she shouldn't know…but does.

When her family moves to a New Orleans plantation, Lucy's dreams become more intense, and her search for answers draws her reluctantly into the old city's world of Voodoo and mysticism. There, Lucy finds Alex, a mysterious boy who behaves as if they've known each other forever. Lucy knows Alex is hiding something, and her rational side doesn't want to be drawn to him. But she is.

As she tries to uncover Alex's secrets, a killer strikes close to home, and Lucy finds herself ensnared in a century-old vendetta. With the lives of everyone she loves in danger, Lucy will have to unravel the mystery of her dreams before it all comes to a deadly finish.
Goodreads
|
Amazon
|
Barnes & Noble
This book was a hot mess. I wish I could say it were original and wonderful and amazing, it was anything but. I don't understand, it had good elements: voodoo, the south, intriguing premise.
What killed me is that this book is stereotypical. It's overused. It's happened before! The beginning was very slow to start. By the time things started to happen, I was looking for my next book to read. I almost DNFd this one.
The characters were uninteresting and dull. There was nothing in them that I could connect to. Fascinating things couldn't be found in any of these characters. I wasn't attached to them at all.
I felt that the author used plot twists because she couldn't figure out where her story was going. The writing was straight forward and fair. It wasn't great, it wasn't bad.
There is instalove. I repeat there is instalove. The author tries to downplay it by making it seem like it's not. It angers me so much because it cheats us readers out of a developing sweet romance. We're just thrown into the middle of things and frankly we don't care about this romance at all.
This book relies too much on the mystery. Once the mystery is solved, there's nothing else this book has going for it. I forgot the book basically the minute I finished, hence the short review.