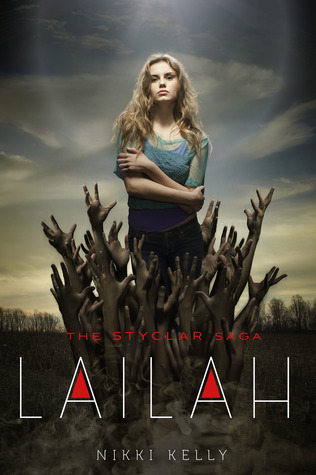 Title: Lailah
Series: The Styclar Saga #1
Author: Nikki Kelly
Genre: YA Paranormal
Pages: 416
Format: ARC
Received: For Review Thanks Macmillan !
Releases: October 7th 2014 from Feiwel & Friends
Stars: 5/5
Book Description:


The girl knows she's different. She doesn't age. She has no family. She has visions of a past life, but no clear clues as to what she is, or where she comes from. But there is a face in her dreams – a light that breaks through the darkness. She knows his name is Gabriel.





On her way home from work, the girl encounters an injured stranger whose name is Jonah. Soon, she will understand that Jonah belongs to a generation of Vampires that serve even darker forces. Jonah and the few like him, are fighting with help from an unlikely Allie – a rogue Angel, named Gabriel.





In the crossfire between good and evil, love and hate, and life and death, the girl learns her name: Lailah. But when the lines between black and white begin to blur, where in the spectrum will she find her place? And with whom?





Gabriel and Jonah both want to protect her. But Lailah will have to fight her own battle to find out who she truly is.





Review:
Lailah
is a debut from Nikki Kelly that originated on the website Wattpad.
Lailah
is a young adult paranormal that has both vampires and angels.
Lailah
is action packed and full romance. It was a lot darker than I was expecting it to be, right from the prologue. There is a bit of a love triangle. I am still conflicted about it though. Jonah and Gabriel are fantastic characters.
Lailah
is a fall release that you need to check out. I read it super fast and was completely hooked.
I absolutely adored this book. There are a few things that I didn't like or didn't understand. This is a young adult novel, but at times it came off as a new adult story for me. This isn't something I had a problem with, but because it is set in the UK it did cause some confusion based on specific laws.
Lailah
starts off with Cessie working in pub and at some point she ends up in a strip club. At times Lailah has much more mature feeling than the usually young adult novel.
I love the way Nikki Kelly dealt with the flash backs in this book. Cessie didn't just re-experience some old memories; she relived them. The flash backs were raw and dreamlike. The flash backs also brought together several of the plots and tied the story together very nicely.
I love Nikki Kelly's writing style.
Lailah
is dark and haunting. Her writing is beautiful.
Lailah
immediately sucked me in and I needed to know the secrets that were surrounding Cessie. I loved that Lailah is dark, but it also has its lighter moments. There were so many swoon worthy moments as well.
I have read and reviewed numerous vampire and angel books. With every books of this particular sub-genre I always want there to be a unique mythology. No one enjoys reading about the same type of vampires and angels over and over. Nikki Kelly has really done an amazing job at world building. She has created alternate dimensions that play with the concept of heaven and hell. It worked really well and didn't disregard the major belief systems. I love that this is more than your typical vampire and angel story. There are alternate dimensions and crazy plot twists that add to this amazing world. At times when Gabriel was explaining the concept for the dimensions it did feel a like there was more telling rather than showing. Hopefully because this is a series we will see the other dimensions rather than having long paragraphs explaining it.
There were numerous lines that I fell in love with while reading! Most of them had to do with making a choice. There were a lot of themes going on in this book. I think my favorite had to be good and evil. I loved that Nikki Kelly showed that no one is ever purely good or purely evil. There is a gray are in everyone. Therefore the choices you make affect that. This theme really resonates with me.
THE PLOT TWISTS!!! There were many, some I predicted and some I predicted wrong. I don't want to say any spoilers, but I had one prediction that I backed and I was completely wrong. I am really glad that Nikki Kelly was able to throw me off.
THE LOVE TRIANGLE!! I know a lot of people aren't a fan of love triangles. I actually enjoy love triangles when they are done well. This one was amazing. I was very conflicted on who I felt was better for Cessie. I think I am leaning toward Jonah. Jonah is a vampire and is the bad boy of the story. I just felt like there was much more chemistry and passion between Cessie and Jonah. Gabriel is that perfect love interest that feels inevitable and perfect. There is something that I don't quite like about him. I gravitate towards Jonah because he sees Cessie for who she is rather than who he would want her to be. I like Jonah so much as a character because he makes bad choices, but his intentions are in the right place.
THAT ENDING! The ending was crazy and I was reading so fast. Then it was over and I was left craving for more. It was definitely a cliff hanger and now I am dying for the sequel. There was even a chapter from the sequel in the back of the arc and that was just a tease.
Gabriel
is definitely at the top of 2015 most anticipated releases!
Overall, you need to pick up
Lailah
. If you are a fan of the paranormal genre you would love this book. It was an amazing read and I can't stop thinking about it. I will definitely be purchasing a finished copy and waiting very impatiently for the sequel.