Today's Summer Blogger Promo Tour Post is a discussion review with Amber and Jessica, from
The Book Bratz
! Who are the creators of this amazing tour, *Dana bows to your greatness*.We read this book in July and we all really enjoyed it!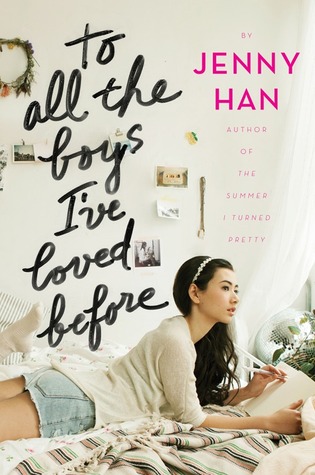 Title: To All The Boys I've Loved Before
Series: To All The Boys I've Loved Before #1
Published: April 15th 2014 by Simon & Schuster Books for Young Readers
To All the Boys I've Loved Before is the story of Lara Jean, who has never openly admitted her crushes, but instead wrote each boy a letter about how she felt, sealed it, and hid it in a box under her bed. But one day Lara Jean discovers that somehow her secret box of letters has been mailed, causing all her crushes from her past to confront her about the letters: her first kiss, the boy from summer camp, even her sister's ex-boyfriend, Josh. As she learns to deal with her past loves face to face, Lara Jean discovers that something good may come out of these letters after all.
Dana's Thoughts: To All The Boys I've Loved Before was a light fun contemporary read that is also drama filled and at times down right embarrassing. I read this book in one sitting. I was completely hooked from page one. I needed to know how this horrible situation could turn out, I was blushing from being embarrassed as a bystander.
As for the characters, I often grew very frustrated with Lara Jean. (I was also frustrating with saying her name. It is such a mouth full.) I loved her despite that. She has this quality that you can't help but root for. I loved this whole family because of their quirks and dynamic. Jenny Han does something that YA never does which is have a close knit family that is actually present through out the novel. Yes, they have their ups and down but it was amazing to read about a normal family. I know this is contradictory to what Amber and Jessica feel, but I really enjoyed Peter as a character. I liked that he wasn't the nicest character and that he had his flaws. Lara Jean was not perfect and often we see a skewed version of Peter. Lara Jean is so hung up on her sister's boyfriend that she views Peter's actions differently. We see Josh and Peter who can't be more different, but I think Peter has a genuineness that is underneath all of it. Peter does come off as rude and arrogant, but his character develops so much throughout this book that it is hard to remember the worst parts of who he was in the beginning.
I love how Peter and Lara Jean's relationship wasn't real at first. Peter truly loved Genevieve, who wasn't that great of a girlfriend to him. I loved seeing these moments where as the reader you know that he doesn't see Lara Jean as a fake girlfriend; they were so heart warming.
I didn't realize until after finishing this book that there would be a sequel! I can't wait until the next book. I am praying for a relationship between Peter and Lara Jean, a real one.
Jessica's Thoughts: All in all, I felt that To All The Boys I've Loved Before was a cute read. The idea was definitely different for the story, not to mention mortifying--I would've died if someone sent out all of my private love letters to all of the boys that they were addressed to. I really felt for Lara Jean in that sense. Character-wise, I did like the character of Lara Jean; she was definitely quirky and awkward and interesting. I could definitely relate. However, a character that I couldn't stand at all was Peter. He seemed awfully arrogant and stuck-up, and incredibly too clingy to Genevieve.He may have had a sweet boy moment or two, but in general his character was a huge turn-off. Even though I feel that Peter's character put a damper on the whole book, I believe that the closeness of the sisters definitely made up for it. I'm constantly arguing with my younger brother and sister, but the three Song-Covey girls had a bond that I'm so envious of.
To All The Boys was a cute, heart-warming read that I thoroughly enjoyed and managed to tear through in about a day because I couldn't make myself put it down. I think that Jenny Han is a great author and this book was equal parts drama, romance, embarrassment, and sisterhood. It made me feel really happy and I really did like it. :)
Amber's Thoughts: I liked the book. I am still getting into the contemporary genre so this was a cute, interesting read. I can agree with Jessica, I disliked Peter a lot. Her was arrogant and never seemed to care about what he would say to Lara Jean. Don't get me wrong, he had his moments. Then when I would think I would start to like him he would do something douchey.
After thinking for a long hard while I realized something. Lara Jean was to involved with Margot and Josh's relationship. Movies? She was there. Dinner? She was there. Now maybe Margot and Josh were alright with it, after all Josh was Lara Jean's friend first.
To All The Boys I've Loved Before was a cute, easy read. Defiantly heart warming, and maybe a tear jerker (...or maybe I am too emotional?) Let me just say that I am eagerly awaiting the second book in the duology now!