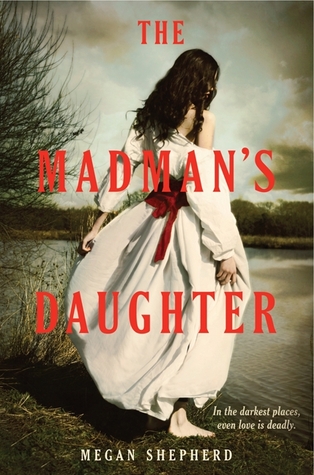 Title: The Madman's Daughter
Series: The Madman's Daughter #1
Author: Megan Shepherd
Genre: YA Fantasy / Retelling/ Historical
Pages: 420
Format: Hardcover
Received: Won from Mary from Mary Had A Little Book Blog
Published: January 29th 2013 by Balzer & Bray (HarperTeen)
Stars: 5/5
Book Description:


Sixteen-year-old Juliet Moreau has built a life for herself in London—working as a maid, attending church on Sundays, and trying not to think about the scandal that ruined her life. After all, no one ever proved the rumors about her father's gruesome experiments. But when she learns he is alive and continuing his work on a remote tropical island, she is determined to find out if the accusations are true.





Accompanied by her father's handsome young assistant, Montgomery, and an enigmatic castaway, Edward—both of whom she is deeply drawn to—Juliet travels to the island, only to discover the depths of her father's madness: He has experimented on animals so that they resemble, speak, and behave as humans. And worse, one of the creatures has turned violent and is killing the island's inhabitants. Torn between horror and scientific curiosity, Juliet knows she must end her father's dangerous experiments and escape her jungle prison before it's too late. Yet as the island falls into chaos, she discovers the extent of her father's genius—and madness—in her own blood.





Inspired by H. G. Wells's classic The Island of Dr. Moreau, The Madman's Daughter is a dark and breathless Gothic thriller about the secrets we'll do anything to know and the truths we'll go to any lengths to protect.






I read The Madman's Daughter for a book club post with Milly over at The YA Night Stand. If you want to see our discussion on the book go HERE
Review: Beware Spoilers may be ahead.
The Madman's Daughter was one of those books that when it was released there was so much hype surrounding it. I always wanted to read it, but I never picked it up. When Milly suggested this book, I was so excited to start reading it. I don't think I have read a book quite like this one before. The Madman's Daughter literally has it all. It is historical fiction, fantasy, with some science fiction, a retelling, a romance, and it gets very gruesome at times.

The Madman's Daughter is a retelling of The Island of Dr. Moreau which I haven't read, but I do know the gist of the story from having seen some of the movie. This book has a much darker tone than I expected. The combination of horror and historical setting really make this book more on the creepy side.

This novel had so many incredible characters. I have to say my least favorite was the narrator Juliet. She was just so hypocritical until the end. I think major problems stem from her choices. She isn't a weak character which I loved. There is just a very unlikable quality to her that I couldn't get past. Obviously I despised Juliet's father, but that was what made him a great villain. He genuinely thought he was doing something good and was completely off the deep end. Montgomery, Moreau's assistant and former servant, was a character that I loved. There were though that I wasn't his biggest fan. Unlike Moreau, Montgomery's actions fall in the grey area. He essentially is a good guy, but he does some bad things. I think his actions were far worse than Moreau because he knew it was wrong. This turned me off from Montgomery in the end.

Edward, Edward, Edward. I fell head over heels for this tragic character. Edward couldn't help who he was and he tried to be better than what he was. I felt bad for him and I just loved how dynamic he was. I am still holding out hope that he is in the next book.

I highly recommend this book to fans of YA. This book appeals to almost all sub-genres of YA. I am looking forward to picking up the sequel very soon. Fingers-crossed for more Edward.