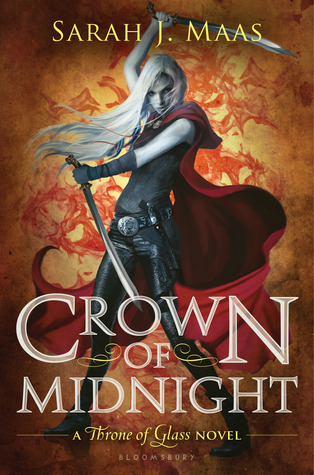 Title: Crown of Midnight
Series: Throne of Glass #2
Author: Sarah J Maas
Genre: YA High Fantasy
Pages: 420
Format: Ebook
Received: Purchased
Published: August 27th, 2013 by Bloomsbury USA Childrens
Stars: 5/5
Book Description:
From the throne of glass rules a king with a fist of iron and a soul black as pitch. Assassin Celaena Sardothien won a brutal contest to become his Champion. Yet Celaena is far from loyal to the crown. She hides her secret vigilantly; she knows that the man she serves is bent on evil.





Keeping up the deadly charade becomes increasingly difficult when Celaena realizes she is not the only one seeking justice. As she tries to untangle the mysteries buried deep within the glass castle, her closest relationships suffer. It seems no one is above questioning her allegiances—not the Crown Prince Dorian; not Chaol, the Captain of the Guard; not even her best friend, Nehemia, a foreign princess with a rebel heart.





Then one terrible night, the secrets they have all been keeping lead to an unspeakable tragedy. As Celaena's world shatters, she will be forced to give up the very thing most precious to her and decide once and for all where her true loyalties lie...and whom she is ultimately willing to fight for.



Review:
Throne of Glass is quickly becoming one of my favorite series. Its got assassins, a colorful setting, wonderful characters, swoon worthy romance, intense action scenes, and plots twists. What's not to like??
The storyline is much darker and more menacing than the first book. Throne of Glass was merely about winning the competition, solving the mystery, and creating a love triangle of sorts. Crown of Midnight is about so much more. It's about defiance, stealth, deception, magic, lies, love, trust.
The characters in this book are just so likable! Celaena is a great protagonist. She's strong, funny, tenacious, stubborn, smart, and deadly. Chaol is so sweet and kind underneath that rough exterior. He's thoughtful and so loyal. Dorian is also quite amazing and wonderful.
I love the third person point of view because it gives multiple perspectives and let's you see inside of everyone's thoughts; it truly gives the full story. So much happened in this book. I felt like nothing was drawn out. This six book series won't drag on endlessly! The pacing was perfect.
This book was so enticing. I couldn't put it down.
Crown of Midnight
was full of action yet even the more calm scenes still held my attention. I enjoyed the nonstop action and Celaena's sleuthing.
Crown of Midnigh
t was really unpredictable. I never saw any of the events coming. The twists made the story even better. I'm so happy to say that this book does not suffer from Second Book Syndrome.
I love the romance and how it builds in the two books. I was in a blissful state while reading these heartfelt scenes. The development was superb. I was very impressed with the writing and gradual build-up. These two characters are definitely my One True Pairing. And no, I will not tell you who Celaena chooses, go read!! I like that the love triangle ended in this book instead of dragging it over all six books until the end. It reminds you that the love triangle is not the big plot of the story, there is much more important stuff to focus on than the love triangle.
By the Wyrd! The things that we learn about the king in this book are horrifying. He most likely has two of the wyrdkeys. Now he just needs to find the last key to open the gate and wreak havoc on the world. Scary stuff. Celaena had better find the key first!
Some of Celaena's secrets are revealed in this book near the end. One was predictable, the other was not. That heartbreaking, heart-wrenching, tear-strickening ending...
Crown of Midnight
was an enthralling and captivating sequel to
Throne of Glass
that will cause readers to experience all the "feels." For those who have read
Throne of Glass
and liked it but aren't sure if you should continue, I highly suggest you do!