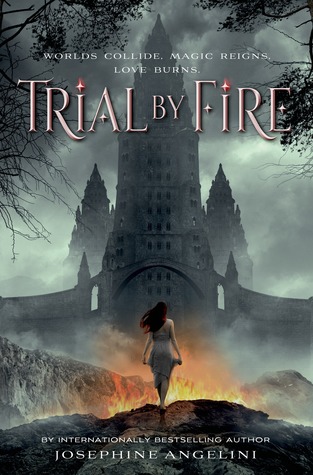 Title: Trial by Fire
Series: The Worldwalker Trilogy #1
Author: Josephine Angelini
Genre: YA Fantasy/ Science Fiction
Pages: 384
Format: ARC
Received: For Review from Macmillan. Thanks so much!
Releases: September 2nd, 2014 by Feiwel & Friends
Stars: 5/5
Book Description:
This world is trying to kill Lily Proctor. Her life-threatening allergies keep her from enjoying experiences that others in her hometown of Salem take for granted, which is why she is determined to enjoy her first high school party with her best friend and longtime crush, Tristan. But after a humiliating incident in front of half her graduating class, Lily wishes she could just disappear.





Suddenly, Lily is in a different Salem—one overrun with horrifying creatures and ruled by powerful women called Crucibles. Strongest and cruelest of them all is Lillian . . . Lily's other self in this alternate universe.





What makes Lily weak at home is what makes her extraordinary in New Salem. In this confusing world, Lily is torn between responsibilities she can't hope to shoulder alone and a love she never expected.





Review:
Trial by Fire
is an incredibly unique young adult fantasy that has romance, witches, magic, doppelgangers, and alternate universes. What is there not to like?
Trial By Fire
takes place in Salem, Massachusetts which is steeped in history from the Witch Trials. We see two different versions of Salem; our world's Salem and a Salem that is governed by witches. This book hooked me right from the beginning. I literally could not put this book down and I was up 2 a.m reading this book because I needed to know what would happen next. I loved the characters and the story. I still feel like there are so many things I don't know. I can't wait for the sequel.
I have never read a parallel universe story quite like Trial by Fire. One universe is ours and the other universe is ruled by witches. Lily Proctor is sickly and weak in our world, but there her weaknesses are signs of her power. I love that this started off showing Lily in her real world and we get to see how life was for her.
I love how everything this other world is opposite and everything connects so well in this book. Lily is tricked into the other universe by Lillian, her doppelganger.
The world of
Trial by Fire
is extremely complex. The society is fully developed and has a multifaceted government. The magic in this story is so wonderfully though out. Magic is more elemental in this series. Witches obtain their magic by converting different elements in their body. Every person in this society uses a willstone which can be a weakness and a strength. Witches are also ranked by the amount of magic they can do and the size of their willstone. I am telling you this is all very intricate. Josephine Angelini has created this entire world that has its own wars, prejudices, tyrannical rulers, government, and genetically mutated creatures that want to kill everything insight.
The characters were really great. I love the development that we see in Lily. She goes from this insecure girl who thinks she isn't good enough to a brave warrior. Lillian is an amazing villain. I absolutely hated her. At times though I felt bad for Lillian because she has some of the same obstacles that Lily has to. I don't trust Lillian at all even though she seems to have good intentions. Rowan, the male lead, is a really great character who has a dark background and has strong ties with Lillian. I ship Lily and Rowan so much, but I hope Lillian doesn't cause problems with that.
The romance between Lily and Rowan is really great. It is very gradual and slow. If you aren't a fan of insta-love and love triangles this is the book for you. You can argue that there is a love triangle between Lily, Lillian and Rowan but it really isn't. You can also try to argue that Lily, Rowan, and Tristan is a triangle but it really isn't.
The plot twists were incredible. There were a lot of things that I didn't see coming. In general this book was not what I expected it to be. I was so surprised by this book and I am so glad that I fell in love with it.
If you are a fan of fantasy then you need to read this book. If you're like me and are just getting into more high fantasy and epic fantasy stories this is a great book that you could start off with.
Trial by Fire
is an action packed adventure bursting with magic. After that ending, I can't wait to see how different the next book will be from this one. READ IT! You won't find another book like this.
GIVEAWAY
Enter using the rafflecopter below. The entries will be verified. This is US ONLY. I am sorry, but I am a poor college student now. Soon I will try to host a giveaway that is open to other countries!