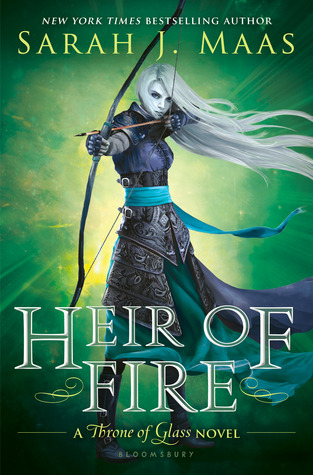 Title: Heir of Fire
Series: Throne of Glass #3
Author: Sarah J Maas
Genre: YA High Fantasy
Pages: 565
Format: ARC
Received: via Bloomsbury thanks Bloomsbury!!
Published: September 2nd, 2014 by Bloomsbury USA Childrens
Stars: 5/5

Book Description:
Lost and broken, Celaena Sardothien's only thought is to avenge the savage death of her dearest friend: as the King of Adarlan's Assassin, she is bound to serve this tyrant, but he will pay for what he did. Any hope Celaena has of destroying the king lies in answers to be found in Wendlyn. Sacrificing his future, Chaol, the Captain of the King's Guard, has sent Celaena there to protect her, but her darkest demons lay in that same place. If she can overcome them, she will be Adarlan's biggest threat – and his own toughest enemy.





While Celaena learns of her true destiny, and the eyes of Erilea are on Wendlyn, a brutal and beastly force is preparing to take to the skies. Will Celaena find the strength not only to win her own battles, but to fight a war that could pit her loyalties to her own people against those she has grown to love?
Other Reviews of Sarah J Maas Books
Throne of Glass
Crown of Midnight
Review:
For those of you who don't already know, I am obsessed with the Throne of Glass series by Sarah J Maas. Saying I was happy when Bloomsbury sent me an ARC is an understatement. Picking up not long after the emotional end of Crown of Midnight, Sarah J Maas dazzles and entrances readers once more with a phenomenal third book filled with magic, character growth, sacrifice, rebellion and more.
"I wish you to become who you ­were born to be. To become queen."
I'm so happy to add Heir of Fire to my list of best books of 2014. Heir of Fire is quite different from the other books in the series. It's darker, has more perspectives, new storylines, new elements, less humor. I liked it a bit less than the other two, but it was so different it's hard to compare them. The other books center around romance and action and humor while this book deals with the deeper stuff: betrayal, confidence, mourning, heritage, loyalty...
This book is huge clocking in at 565 pages! The beginning was a bit slow but eventually picked up. What kills me is that I know people will judge and rate this book harshly because of the slow start, but everything written was absolutely necessary to carry the story! The attention to detail was amazing. Everything was there for a reason, there were connections to the other books all over the place! It brought back all the feels from The Assassin's Blade & Crown of Midnight. Sarah J Maas is a great planner, you can tell she had everything all mapped out from book 1. Maas has set this series on a much darker (and awesome) road than most YA series (even fantasy novels) tend to go, and I applaud her for it.
The high fantasy aspect of this book was brought out and shined upon. We're introduced to the magical world. We read of wyverns, magic-users, fae, and other mystical creatures. I loved it all. The world-building was stellar. Sarah J Maas clearly described everything and truly painted the picture. She didn't dump all the information on us all at once, she spread it throughout the story nicely.


The character development in this series is phenomenal. Each of our characters has his/her own obstacles that must be overcome; they all have their own journeys.
"She was still on the fall down. There was no getting up, because there was no bottom."
We see a totally different side of Celaena in Heir of Fire. We see a shattered, mourning, and vulnerable side of Celaena in this book. This girl is unfamiliar to us, we're used to the cocky and unbeatable assassin. I feel that we learn more about Celaena and can connect with her more now that we've seen her character's not just a shiny facade. This new side of her shows that she's not as perfect as she's depicted in the previous books. Celaena goes through a long, tiresome journey in Heir of Fire and comes out more fierce and determined than before, a magic-wielding queen ready to take back what's rightfully hers.
"As for Celaena," he said again, "you do not have the right to wish she were not what she is. The only thing you have a right to do is decide whether you are her enemy or her friend."
Chaol struggles to decide where his loyalties lie and how he feels about Celaena and the discoveries he made in Crown of Midnight. I'll admit, Chaol annoyed me so much in this book. He can't make up his mind and tries to play both sides. No!! Just dump the evil king and come to Team Celaena!! Dorian struggles to conceal his magic and stand up to his father. Both characters come so far in this book. They sacrifice so much and in the end they make the tough decisions where this is no turning back.
There are quite a few new characters introduced in this book: Rowan is a fae prince and warrior who teaches Celaena how to control her magic. This guy is so mercurial! I was instantly intrigued by him from the beginning. He's such an enigma and underneath it all, he's a bit like Celaena. Aedion is the fierce general of the North and Celaena's cousin. He's pretty awesome. Manon is the ferocious heir to the Blackbeak witch coven. All of the characters in this book are so complex and well developed. The secondary characters are just as descriptive as well. I ALMOST ship Rowan and Celaena, but I think they're more of a team.
With new characters come more points of view. Overall I liked the various perspectives because the plot needed all sides of the story to make sense. Sometimes though I felt that some scenes were quite unnecessary and long and dragging. It varied. Sometimes I'd want to read Celaena's parts but was stuck reading a boring part of Manon's. Other times Celaena's would be dragging, and I'd rather read from Aedion's point of view.
We learn so many things about Erilea and what happened to Celaena ten years ago. It's all quite mind-blowing and a bit overwhelming. We also learn more about the King's nefarious actions. We see connections all over the place from the various books! Maas has been spreading the crumbs throughout the series until BAM you read Heir of Fire, and it all comes together!! The wyrdstones. The tower. The rings. The disappearances. The crumbled note. The rebels. Baba Yellowlegs. Everything happens for a reason and contributes to the story in some way.
"The people you love are just weapons that will be used against you."
Romance was not a big part of this novel. There are some heartache moments for our dearest Chaolaena and a bit of romance, but there are much more important things brewing in Erilea and Wendlyn. This series is past the silly romance, it's moved on to the important stuff like defeating a diabolical king, bringing back magic, freeing the enslaved, and so on. I still miss it though, I want to swoon!! I want to see Chaolaena again... There's some romance between Dorian and a new chick, but it's just not the same.
As I said before, this book starts off a bit slow. Stick with it though, and if you liked the other books you'll love this one as well. The ending is horrific yet amazing at the same time. The rebellion is forming, and we readers are kept wanting more.
"He would see that world reborn, even if it took his last breath. Even if he had no name now, no position or title save Oath-Breaker, Traitor, Liar."
Heir of Fire is yet another amazing installment of the Throne of Glass series. WHERE IS BOOK #4????
"She was the heir of ash and fire, and she would bow to no one."