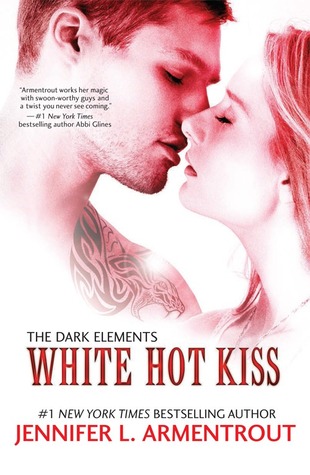 Title: White Hot Kiss
Series: The Dark Elements #1
Author: Jennifer L. Armentrout
Genre: YA Paranormal Romance / Fantasy
Pages: 392
Format: ARC
Received: Won in a Giveaway Thanks ReadingTeen
Published: February 25th 2014 by Harlequin Teen
Stars: 5/5
Book Description:


One kiss could be the last.



Seventeen-year-old Layla just wants to be normal. But with a kiss that kills anything with a soul, she's anything but normal. Half demon, half gargoyle, Layla has abilities no one else possesses.





Raised among the Wardens—a race of gargoyles tasked with hunting demons and keeping humanity safe—Layla tries to fit in, but that means hiding her own dark side from those she loves the most. Especially Zayne, the swoon-worthy, incredibly gorgeous and completely off-limits Warden she's crushed on since forever.





Then she meets Roth—a tattooed, sinfully hot demon who claims to know all her secrets. Layla knows she should stay away, but she's not sure she wants to—especially when that whole no-kissing thing isn't an issue, considering Roth has no soul.





But when Layla discovers she's the reason for the violent demon uprising, trusting Roth could not only ruin her chances with Zayne…it could brand her a traitor to her family. Worse yet, it could become a one-way ticket to the end of the world.
Other Reviews of Jennifer L. Armentrout Books
Review:
Isn't it obvious that I love Jennifer L. Armentrout's books? Jennifer L. Armentrout has become my favorite author and I am so grateful for all of the blogs that promoted her books because I wouldn't have found these amazing books if it weren't for them. Every book/series is so different from the next, but I always know that there will be hot swoon worthy boys and amazing writing. I already read the prequel novella awhile back and adored the world and characters. I do recommend reading that either before or after you read White Hot Kiss. It set up the story very well and you can really connect the foreshadowing when you read this one.
I love Paranormal Romances, but I am always looking for something different. After awhile you pretty much see the same things just reworked. I have never read a gargoyle book and I loved the mythology that Jennifer L. Armentrout used. This may be a gargolye story, but at its core it revolves around angel and demon mythology. I absolutely love YA books that feature angel and demon mythology and this one was so unique.
As always the writing is wonderful. It had her usual hysterical tone, but Layla's voice wasn't as snarky as some of Armentrout's past female protagonists.I really liked Layla. She isn't my favorite female protagonist ever, but she wasn't annoying. I liked that even though she didn't have a ton of paranormal powers she was still strong. I can't wait for her backstory to become an ever larger plot.
Roth and Zayne. Roth was a great character. I loved that I wasn't sure if I could trust him ever throughout this story. Zayne was a character that I loved from Bitter Sweet Love. Layla and Zayne have this strange relationship that I really loved. I started shipping them in that book, despite the fact that they can't be together. I like Roth and Layla, but I am holding out hope for Zayne (for some crazy reason).
White Hot Kiss is a fun and unique story that I loved reading. Jennifer L. Armentrout has hit yet another home run for me with this start to the series. I can't wait to see where this series goes. Now I have another series by Jennifer L. Armentrout to try and keep up with and I will love every minute of it!