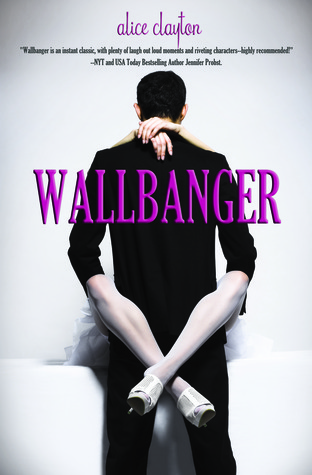 Title: Wallbanger
Series: Cocktail #1
Author: Alice Clayton
Genre: NA / Adult Contemporary Romance
Pages: 384
Format: E-Book
Received: Purchased
Published February 14th 2013 by Gallery Books
Stars: 4/5
Book Description:
Caroline Reynolds has a fantastic new apartment in San Francisco, a Kitchen Aid mixer to die for, and no O (and we're not talking Oprah here, folks). She has a flourishing design career, an office overlooking the bay, a killer zucchini bread recipe, and no O. She has Clive (the best cat ever), great friends, a great rack, and no O. Adding insult to O-less, she also has an oversexed neighbor with the loudest late-night wallbanging she's ever heard. Every moan, spank, and—was that a meow?—punctuates the fact that not only is she losing sleep, she still has—yep, you guessed it—no O. Enter Simon Parker. When the wallbanging threatens to literally bounce her out of bed, Caroline, clad in sexual frustration and a pink baby-doll nightie, confronts her heard-but-never-seen neighbor. Their late-night hallway encounter has…well…mixed results. Because with walls this thin, the tension's gonna be thick. A delicious mix of silly and steamy, this is an irresistible tale of exasperation at first sight.
Review:
Wallbanger is a hilarious romance novel that I read extremely quick. I read this book on a whim and I am so glad that I did. I had heard about this book and it had sounded so familiar to something I had read. It turns out that Wallbanger was originally a Twilight Fanfiction and when Twilight was huge I was obsessed especially with the fanfiction. If you are looking for a fun new adult/ adult romance story along the lines of Losing It by Cora Cormack that has a great combination of humor and
steaminess
then you need to check out this book.
Caroline is a great narrator and a breath of fresh air in this genre. I think contemporary romance is full of females who are slightly weaker characters. I prefer females who kickass and don't care who they offend. Caroline has no filter and I love her for that. Wallbanger or Simon is a great love interest. He had his cocky moments, but the way he justified himself and the more you delve into his character you can't help but fall in love with him.
I definitely want to continue on with this series and read more of Alice Clayton's books because of her writing. I love how funny this book is. There are some hysterical embarrassing moments that you can't read with out literally laughing out loud.
I have read several books that started out as Twilight fanfiction. I love that Wallbanger is so very different from Twilight. I was able to pick out which characters were based on twilight characters, but other than that there wasn 't much that I could recognize from it.
The only thing I wasn't a fan of was the "O" thing. I think a few times it was funny, but it was over used and after awhile it was very grating on my nerves. I don't think it should have been referenced so many times.
Personification in this case just didn't work.
If you want a fun romance novel then you need to check out Wallbanger by Alice Clayton.