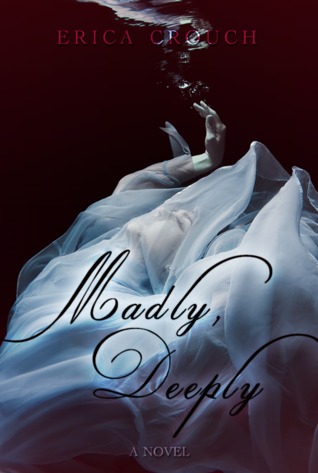 Title: Madly, Deeply
Author: Erica Crouch
Genre: NA Paranormal Romance/ Retelling
Pages: 209
Format: E-ARC/E-Book
Received: For Review from Publisher/ I also purchased the E-Book
Published: June 17th 2014 by Patchwork-Press
Stars: 5/5
Book Description:


It was many and many a year ago,




In a kingdom by the sea...





Annaleigh Wells and William Calloway had a love even the angels envied. It was as if the universe spun them toward one another, like the stars crafted their souls to fit perfectly together.





With a wedding on the horizon, fate had a change of heart. Whispered warnings from phantoms and morbid nightmares darkened every night—but even visions of the future couldn't save Annaleigh.





Inspired by Edgar Allan Poe's poem Annabel Lee, Crouch's period romance Madly, Deeply tells the tale of love so great, it cannot be contained in just one life.






Review:
I don't think I can fully express in words how much I love this story, it just isn't possible. I haven't cried this much while reading a book in a long time. This is also a really short book which makes the amount of tears that fell on my e-reader even more astonishing.
Thank you, Erica, for all of these feels!
Madly, Deeply by Erica Crouch is a retelling of Edgar Allen Poe's poem Annabel Lee. Annabelle Lee is one of my favorite poems. I knew going into Madly, Deeply that it was going to be sad; I didn't expect the gut-wrenching emotion that I went through.
ALL BY MYSELF. DON'T WANT TO BE ALL BY MYSELF.
The writing was stunning and gorgeous; perfectly matching the era. I think I have come to love Erica's beautiful prose the most about her novels. I want to purchase the paperback just to flag all of my favorite quotes! The writing just made the romance even more all consuming for me. Annaleigh and William have this soul mate type love and you never actually see them fall in love, that happened before the start of the novel. Despite not seeing how they feel in love it still pulled and exploded my heart with so many feelings.
This is how I felt after reading.
This story has ghosts, love, and will leave you with a heartache that you won't believe. Madly, Deeply is ethereal and beautiful, but unbelievably sad. It is definitely one of my favorite reads of the year so far. If you are a fan of Annabel Lee, then you must read this. When you know the ending of a book will be sad and your heart gets ripped into pieces anyway, it has to be amazing.
You need to read this book. It is a fast read that you will fall in love with. GO FORTH AND FEEL ALL THE FEELS!!! P.S It is only $0.99, even more reason to go and read it!
Interview:
What inspired the story?
I'd known for a while I wanted to write a Victorian ghost story. I thought combining the eery feeling of ghosts stories with that era would be really stunning — gothic writing already has a dark mystery to it! So when I began plotting a story for the Patchwork Press anthology (which this was originally supposed to be a part of), I started with the idea of a ghost haunting a boy who she fell in love with. The story remolded itself a couple of times before I landed on the plot that I did, and then based it on my favorite Edgar Allan Poe poem, Annabel Lee, which is a wealth of inspiration in and of itself.
When did you know this was no longer a short story for the anthology?
I think about halfway through. The anthology story was supposed to be between 15-25k, but I was only a few chapters in and nearly at the lower end of the word count goal. I originally thought that I could just keep writing and then go back to cut it down in edits, but once I started revisions, I found nothing that I could cut. Not that there wasn't anything I wanted to cut (because I know sometimes you have to kill your darlings), but the story didn't want to condense. So, with the encouragement of Kellie Sheridan, I ended up expanding it, and giving it the room it wanted to breathe.
How was writing this different from Ignite/Entice?
Wow, in so many ways. The story is completely different — in setting, tone, and characters. It's not so action based, but it's still dark. I think, in some ways, it's darker than Ignite/Entice, maybe just because of its subtlety. There is more of a slow build to the "big event" in Madly, Deeply. I think the biggest difference is that Madly, Deeply is more focused on character while Ignite/Entice is more focused on plot, if that makes sense. It

'

s also much more romance-themed. Not to say that Ignite doesn't have romance, but it's not the focus of the story. I think both Ignite/Entice and Madly, Deeply are about love (family love and romantic love), loss, and survival.
What is one line from the story that you adore, above all the rest?
Ah, a tough one. I don't think I have any one absolute favorite line (at least not one single line). I do have a lot of favorite scenes/moments… But if I had to pick, I think I really love this line: "He studied her like a blind man who had been gifted temporary sight, as if this were the first time he was seeing her and he'd never get another chance to behold her again."
What are the new titles that are in the works?
The next title coming out will be the Patchwork Press anthology, where I have a short story involving séances and murder. Right now, I'm writing Incite which I'm hoping to keep on schedule to come out this fall. And of course, I have the new adult sci-fi series I'm writing (Cut, book one of the Undying series) and the Robin Hood re-telling!
Is there any advice you think every writer should hear?
You're allowed to suck, and you will get better if you work at it. I think writers put so much pressure on themselves to be perfect. To write that perfect first draft, to release that perfect final draft. It's not going to happen. Your first draft could be terrible, but you get so many tries to revise it, so don't let that stop you from writing! And even if you love your final product, there will be someone who doesn't. That's okay! REALLY! It might not be their cup of tea. People have different tastes, and just because someone doesn't like reading your book, doesn't mean it's not great. I also really think writing takes a ton of practice and thought. Be thinking about your stories when you're not writing on it — always be working on something. Don't let your writing muscles atrophy!
Is there a genre that you are afraid to write?
Hmmm… I don't think so! I really want to write in every genre. I get bored working on one thing and I feel that boxing myself in to just one genre would drive me mad. I don't think I'd be afraid to try everything — though I can't say I won't be nervous for certain until I've actually tried everything once!
If you were to fancast, who would play the three main characters?
I actually just wrote a post on my blog about the Madly, Deeply fancast! I never had a set of celebrities in mind when I went to write Madly, Deeply — and if it became a movie, I'd imagine the cast being filled with unknowns (there's only so many times you can see the same actress play a book-to-movie role). So my three picks are relatively new/inexperienced, but I think they'd do a fantastic job:
Gabriella Wilde as Annaleigh Wells
Ben Barnes as William Calloway
Emily Rudd as Mary Calloway
What book have you cried the most while reading?
The Fault in Our Stars by John Green (obviously) got me. But so did the ending of Clockwork Princess by Cassandra Clare. I remember crying hysterically watching The Book Thief movie, and I think it was nearly as bad as it was when I read the book! I'd call it a three-way tie.
What is your current read?
I'm jumping between two books right now: Tiger Lily by Jodi Lynn Anderson and Fragments (Partials #2) by Dan Wells.
What is a great summer read that you would recommend?
The Throne of Glass series is spectacular! I absolutely loved the first book, and I just finished reading Crown of Midnight (book two) a few weeks ago. It was just… I don't even have the words to describe how much I love it. I can't wait until the next book comes out this fall!
What can we expect next from Patchwork Press?
A few new authors are joining the Patchwork Press team next year, so I feel like we'll be getting a lot more diversity in our catalogue! The anthology, as I mentioned, will be coming out soon. I also will be releasing Incite, and an omnibus edition of the Ignite series as well as audiobooks for the series! We're definitely looking at expanding both our titles (in genre/age group/tone), platforms (ebooks, paperback, audiobooks, etc), and our interaction with the blogging community! Hopefully, you will even be able to find us at some conventions! :)
a Rafflecopter giveaway

About Erica Crouch
novel, Ignite, was published June 2013, and its e-novella sequel, Entice, was released Nov. 2013.
The final book in the Ignite series, Incite, is expected 2014. A compilation of the series will be
Erica is the cofounder of Patchwork Press, an author-powered publisher of MG, YA, and NA
titles. She is the head of editorial services and design, with more than ten projects to her name.
Currently, she is studying English and Creative Writing with a specialization in Fiction at
Southern New Hampshire University. She is a vlogger for the YAWordNerds with over 400
subscribers. When Erica isn't writing, she's reading an overwhelming stack of books, watching
an obscene amount of Netflix, and procrastinating.