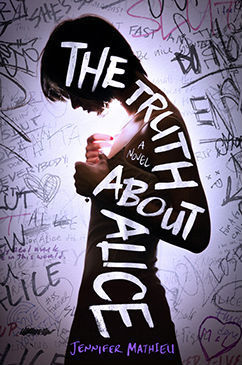 Title: The Truth About Alice
Author: Jennifer Mathieu
Pages: 208
Genre: YA Contemporary
Format: ARC
Received: For Review
Published: June 3rd 2014 by Roaring Brook Press
Stars: 5/5
Book Description:




Everyone knows Alice slept with two guys at one party. When Healy High star quarterback, Brandon Fitzsimmons, dies in a car crash, it was because he was sexting with Alice. Ask

anybody

. Rumor has it Alice Franklin is a slut. It's written all over the "slut stall" in the girls' bathroom: "Alice had sex in exchange for math test answers" and "Alice got an abortion last semester." After Brandon dies, the rumors start to spiral out of control. In this remarkable debut novel, four Healy High students tell all they "know" about Alice--and in doing so reveal their own secrets and motivations, painting a raw look at the realities of teen life. But in this novel from Jennifer Mathieu, exactly what is the truth about Alice? In the end there's only one person to ask: Alice herself.





Review:
The Truth About Alice is a contemporary novel that you will not be able to put down. This is not a light fluffy read, but it is also not too depressing. A major theme in this book is slut shaming which tends to happen a lot in YA novels.
You may be asking yourself what is
slut shaming
?
"An unfortunate phenomenon in which people degrade or mock a woman because she enjoys having sex, has sex a lot, or may even just be rumored to participate in sexual activity."-Urban Dictionary
The Truth About Alice hooked me at the blurb. It is an incredibly unique story, yet at the same time it felt very realistic at times. I think gossip and rumors are a major problem in high school. I personally hear stories of things people supposedly have done and end up with preconceived notions about people that I have never had more than a one word conversation. We see this occur in a very dramatic fashion in this story. I think I appreciated that this was more than a cyber bullying story and spread even more than just among the teens.
This story follows the point of view of several characters who have some connection to Alice. You learn about Alice through all of these characters who are very much biased about her. We hear from a boy with a crush, a best friend of the boy Alice supposedly killed, that boy who died's girlfriend, and Alice's ex-best friend. Except we never hear from Alice until the last chapter of the book. In English class your teacher will always say that characterization can occur in multiple ways. I feel like The Truth About Alice is the best example of characterization of a character via other characters.
I loved that this book had other plot lines that I didn't expect to find. I loved the romance that was featured between Alice and another character in the book, there is a character that deals with an eating disorder, and this was not directly stated I feel like there was a character dealing with his own sexuality. All of these plot lines were dealt with in a story about slut shaming which I found to be fantastic.
The Truth About Alice works so well because it is set in this small Texas town in which the football players are pretty much celebrities. After reading this book, I started watching the show Friday Night Lights (Seriously I am obsessed!) and I was able to really understand this book even more. I can draw a lot of parallels to this TV show which really excited me.
The Truth About Alice is a fantastically written book that deals with issues that a YA audience can relate to. Gossip can do damage whether you expect it to or not. I think this book has made me put my own judgement into perspective. We all judge it is apart of human nature, but choosing how we judge is still in our power.
I HIGHLY recommend this book. It is a must read if you love a darker contemporary, but you want there to be a happier ending. The Truth About Alice is a fast paced read that will have you needing to know more about this mysterious girl who may be the cause for everything bad in this town. It is a short read as well you just need to pick this up.