I signed up to do my first Read-A-Thon because I have so many books I want to read and I just need to force my self to read as much as humanly possible. Also I want to make this my personal review-a-thon. I read a lot but not always do I make the effort to review everything. So my goal is to write a review every day and post a review everyday!
I also plan on making a vlog daily on my reading just so that it is a bit easier for me to have one post with a video of how I am doing!
I hope to read 8 books over the 9 days which is a large goal but I hope I can do it!
Now here are all the books I plan to read with the covers and summaries included!
These are listed in the order in which I hope to finish them the first 3 are ebooks for review so they take priority but the print books order may change based on my mood!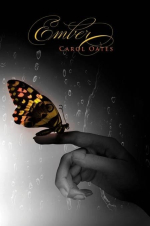 1. Ember by Carol Oates-
When Candra Ember wakes up in hospital after a dangerous encounter
with a red-haired woman, she is shocked to discover that seeing a winged boy wasn't her imagination. Candra is exposed to a world of rivalry and sacrifice she never knew existed, and the aftermath of a war to save humanity thousands of years ago. Soon she finds herself relentlessly stalked by Sebastian, a beautiful and arrogant Watcher Angel and romantically pursued by his darkly seductive rival, Draven. Ultimately, dubious about her own goodness, Candra's very existence compromises a tentative peace in the city of Acheron.
( I am currently reading Ember I am about half way done with it you should see a review up this coming Wednesday! I highly recommend it!)
2. The Twilight Saint by Jessica Penot-
It has been thousands of years since the fall of the great nations and the tribes that remain in the ashes of the fallen must fight to survive in the shadows. In this desperate landscape, Ailive has spent her entire life fighting for the honor of her
tribe and she has grown weary of war. When Ailive sees a chance to escape her fate, she flees into a chaotic landscape where death and darkness lurk behind every friendly face until she finds refuge in the peaceful city at the center of her world. In this city, Ailive finds everything she's ever dreamt of, but news of a strange prophet from the South brings whispers of war to Ailive's peaceful home. Now Ailive alone can stop the genocide of an entire tribe of people. Ailive alone holds the key to bringing peace to the world and destroying the monstrous man whom she once loved, if she can only gain the courage to pick up her sword again and make herself fulfill the destiny she's fought her entire life.
3. Promises (Syrenka Series) by Amber Garr -
Sometimes following your heart can end up destroying the ones you love.
When seventeen-year-old Eviana Dumahl is faced with the responsibility of an arranged marriage and
clan leadership, she is forced to choose between the life required of a mermaid and one of a teenage girl simply infatuated with the wrong guy. Kain, her devoted fiancé would make a wonderful husband except that she's been in love with Brendan, a shape-shifting selkie, ever since they were kids. Choosing to abandon her family, her clan, and her life with Kain will have dire consequences far beyond anything she could have imagined.
A war is brewing amongst the clans and Eviana unwittingly becomes a pawn in the intricate schemes of a twisted mastermind. With Brendan's life on the line, she has no choice but to involve those who she once considered friends. Amidst encountering senseless tragedies and immense loss, Eviana discovers that she is more valuable as a clan leader than anyone ever suspected. Her survival is not only dependent upon the loyalty of her friends, but also on her acceptance of a life that she had so adamantly tried to escape.
4. A Great And Terrible Beauty by Libba Bray-
It's 1895, and after the suicide of her mother, 16-
year-old Gemma Doyle is shipped off from the life she knows in India to Spence, a proper boarding school in England. Lonely, guilt-ridden, and prone to visions of the future that have an uncomfortable habit of coming true, Gemma's reception there is a chilly one. To make things worse, she's been followed by a mysterious young Indian man, a man sent to watch her. But why? What is her destiny? And what will her entanglement with Spence's most powerful girls—and their foray into the spiritual world—lead to?
5. BloodLines by Richelle Mead-
When alchemist Sydney is ordered into hiding to protect the life of Moroi princess Jill Dragomir, the last place she expects to be sent is a human private school in Palm Springs, California.
Populated with new faces as well as familiar ones,
Bloodlines
explores all the friendship, romance, battles, and betrayals that made the #1
New York Times
bestselling Vampire Academy series so addictive--this time in a part-vampire, part-human setting where the stakes are even higher and everyone's out for blood.
6. Unearthy by Cynthia Hand ( Also number 7. is Hallowed the Sequel I will include the cover but I don't want to spoil it for myself I have already read Unearthy along time ago so I want to reread.)
Clara Gardner has recently learned that she's part angel. Having angel blood run through her
veins not only makes her smarter, stronger, and faster than humans (a word, she realizes, that no longe
r applies to her), but it means she has a
purpose
, something she was put on this earth to do. Figuring out what that is, though, isn't easy.
Her visions of a raging forest fire and an alluring stranger lead her to a new school in a new town. When she meets Christian, who turns out to be the boy of her dreams (literally), everything seems to fall into place and out of place at the same time. Because there's another guy, Tucker, who appeals to Clara's less angelic side.
As Clara tries to find her way in a world she no longer understands, she encounters unseen dangers and choices she never thought she'd have to make between honesty and deceit, love and duty, good and evil. When the fire from her vision finally ignites, will Clara be ready to face her destiny?
8. The Forest of Hands and Teeth by Carrie Ryan -

In Mary's world there are simple truths. The Sisterhood always knows best. The Guardians
will protect and serve. The Unconsecrated will never relent. And you must always mind the
fence that surrounds the village; the fence that protects the village from the Forest of Hands
and Teeth. But, slowly, Mary's truths are failing her. She's learning things she never wanted to know about the Sisterhood and its secrets, and the Guardians and their power, and about the Unconsecrated and their relentlessness. When the fence is breached and her world is thrown into chaos, she must choose between her village and her future—between the one she loves and the one who loves her. And she must face the truth about the Forest of Hands and Teeth. Could there be life outside a world surrounded in so much death?
9. The Twenty by Claudia Carozza -
Imagine living in a time when infertility runs rampant and babies are no longer being born. The world is crumbling around you as people start talking about the end. This is the world Hazel DeSales grew up in. After her mother
dies from a mysterious cancer, Hazel finds herself taking care of her younger sister Netty and alcoholic father.
It's not until twenty women, known as the Elect, become pregnant all across the Barronlands when things start looking up. Hazel and Netty apply for jobs working as domestics in the Antioch Center where the Elect will be taken care of and protected. Hazel feels change in the air and her outlook for the future starts to improve.
But she soon learns that change is not without consequence. Rumors are brewing about a government cover up and Hazel finds herself in the wrong place at the wrong time, overhearing sensitive information not meant for her ears. So begins the unraveling of secrets that uncover things from her past, threatening her future. Hazel is determined to seek the truth and promises herself to do whatever it takes to succeed.
I did include an extra just because I have already started two of these books! Are you doing this this coming week? What are your goals? Have you read any of these books?