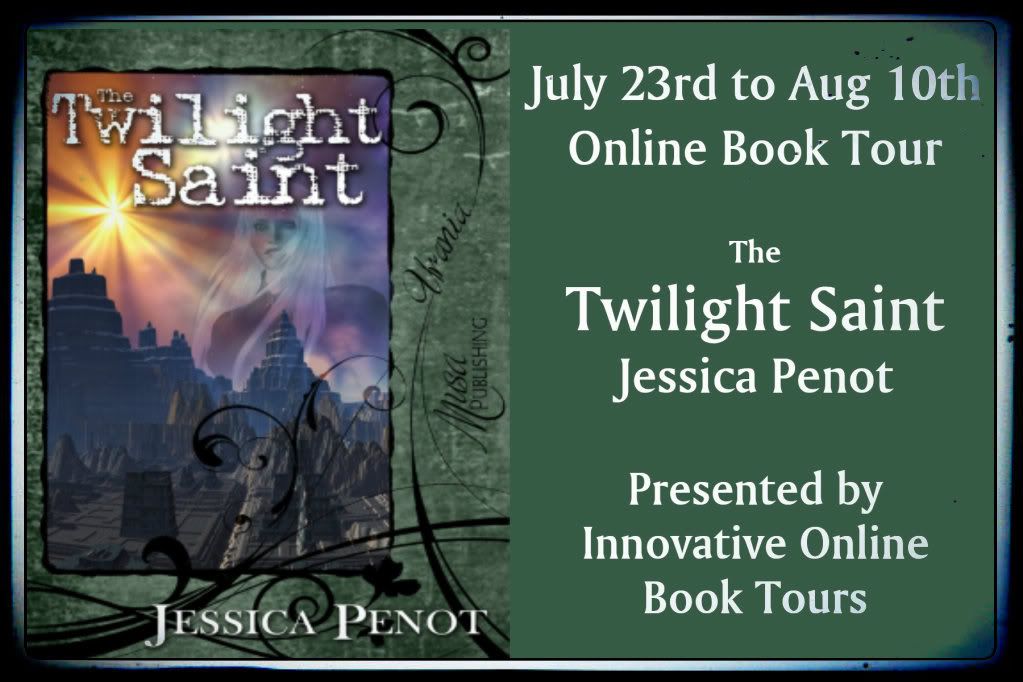 Review~The Twilight Saint by Jessica Penot
About the book-
It has been thousands of years since the fall of the great nations and the tribes that remain in the ashes of the fallen must fight to survive in the shadows. In this desperate landscape, Ailive has spent her entire life fighting for the honor of her tribe and she has grown weary of war. When Ailive sees a chance to escape her fate, she flees into a chaotic landscape where death and darkness lurk behind every friendly face until she finds refuge in the peaceful city at the center of her world. In this city, Ailive finds everything she's ever dreamt of, but news of a strange prophet from the South brings whispers of war to Ailive's peaceful home. Now Ailive alone can stop the genocide of an entire tribe of people. Ailive alone holds the key to bringing peace to the world and destroying the monstrous man whom she once loved, if she can only gain the courage to pick up her sword again and make herself fulfill the destiny she's fought her entire life.
About the Author-
I am a therapist and writer who lives in Alabama with my three corgis, children, husband, and other strange creatures. My short stories have been published in numerous literary magazines and anthologies including CSM, Summer Gothic, Bound By Blood, and Outer Darkness. I have ghost story columns in the
Valley Planet
and
White Cat Magazine
where I share my love for ghost stories that send shivers down your spine and keep you up at night. I also share my passion for all things ghostly and haunted at my blog, ghost stories and haunted places.
I am currently working on my next Haunted America Book for History Press,
Haunted South Alabama
. Follow me at my blog to learn about the ghost stories I am chasing and collecting for this fascinating addition to Haunted America. I'm also workng on the next book in my Circe series. The demon is awake and waiting for my new heroine in the swamps of Southern Alabama.
Click Here to Follow My Blog!

You can contact me at
jessica.penot@gmail.com
My Thoughts And Opinions-
The author has constructed a very beautiful and intricate world. From the unique places, names, and gods, you would expect this to make it very hard to get hooked. Quite the opposite this book is so intriguing to discover and understand. The main character Ailive is just so raw in away. She is so blinded by faith and duty that it clouds her judgement for the majority of the book. She doesn't always have the greatest sense of right and wrong, because killing someone doesn't ever seem to bother her, at least in our societies standards. Being an assassin doesn't bother her at all she even enjoys her. She sacrifices so much for it.
In away it was heartwarming watching Ailive grow and become a better person from going to the University. Even though Divergent by Veronica Roth is a completely different book and genre Ailive reminded me a lot of Tris. They shared that same intensity. Just as Cahir and Four are alike in away teachers to them who end up being more than that.
But after her crazy journey she finally finds her way back to him and he is no longer a like-able character. His true colors are shown and they aren't that pretty. Their relationship is very odd for her it seems co-dependent. She needs him and at times he could care less.
I was so over joyed when she went to her brother in the end and joined him yet she was broken. In the end she wound up with Hotem who I wanted her to.
The very end for me was okay it was hard to see Ailive as anything but strong, young, and brave. I guess everyone grows old and dies but Ailive could have been an exception. I was satisfied but I would have been happier if it ended at their wedding.
Ailive is a killer, student, slave, soldier, queen, mother and so much more. This book was just epic. I don't know how so much happen in
260 pages. Once you dive into this world you won't want to leave. I certainly didn't! I read it in one sitting.
I haven't been utterly blown away by a novel in a long time. I highly recommend that you give this book a try!
Giveaway
So the author was nice enough to giveaway 5 ebooks on the tour and 5 print books to you guys! So go ahead and enter you need to read this books
Amazon code Kindle:
Jessica Penot Online:
Website http://www.jessicapenot.net/
Blog http://www.ghoststoriesandhauntedplaces.blogspot.com/
Facebook http://www.facebook.com/#!/jessica.penot
Twitter https://twitter.com/#!/Jessica_Penot