"In My Mailbox" is a weekly post hosted at the
The Story Siren
and it's about what new books we got in the mail, bought, library or won.
In My Mailbox #3-
This week was good week in books for me. I won several books from several Blog Hops and I also bought a new April Release.
What I Bought-
The Selection by Kiera Cass
I had been obsessed with Twilight when it got big and found a channel with parodies on it called TwiCurls Kiera was on of the two girls and she now has her own channel. I still follow her so I knew I had to buy this book!
Dancing At The Chance by DeAnna Cameron won from the Easter Giveaway Hop
To Kill A Mocking Bird won from the Autism Awareness Hop
The Post College Guide To Happiness by Bryan Cohen won from his Blog Tour (ebook)
Kiss Me I'm Irish by Bella Street won from the April Showers Blog Hop (ebook)
Little White Lies by Aimee Laine won from April Showers Blog Hop (ebook)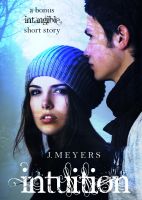 Intuition by J.Meyers a short bonus story to Intangible